Grand Haven Tribune September 25. 1980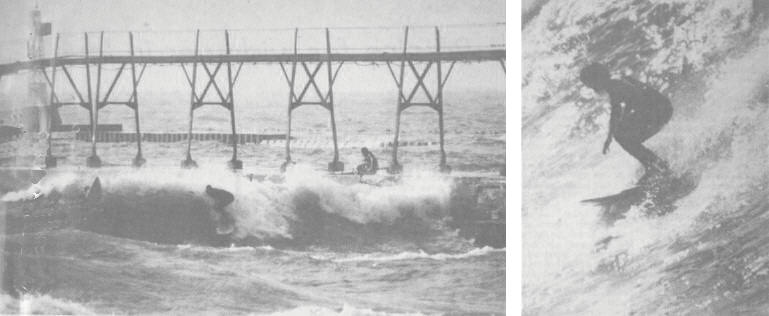 SURF'S UP – These surfing pictures on Lake Michigan were taken in late October of 1978 when a system had kicked up the surf along the south pier in Grand Haven. On that day waves were five and six feet high. At right, a picture of Robert Beaton catching a Lake Michigan wave was taken by Chuck Gomery, and at left, Beaton gains possession in the curl of a wave found crashing near the south pier. This picture was taken by Mike Coffee.
25 to compete for best surfer here
Contestants hope for good waves Saturday
By RUSS HUMPHREY
Riding the ocean waves on a surf board is common practice on the southeastern and western coastlines in the United States, but here on the Third Coast calling "Surf's Up," happens only a few times, if at all, during the summer.
September and October is surfing season on Lake Michigan, and on a day when winds churn up some good waves on the lake, a few of Grand Haven's beach bums can be seen bobbing in the water.
But the biggest problem with surfing Lake Michigan is that a surfer may have to wait weeks, months, even years for the right day and the right waves.
If on Saturday the north wind does not cooperate and generate any waves as high as three feet, the contest will be rescheduled for the following weekend.
For those who seek the thrills of surfing, the next few days will be ones of excitement in anticipation of the event.
What is at stake is that allusive title of being the best and a $100 first prize.
JUDGES WILL BE scoring surfers according to their form and confidence on waves. The standard judging is on a 10-point scale, one being poor and 10 being best.
There will be timed heats, and surfers will get an unlimited number of waves to surf on during this period.
Any complaints about possession, or anything else which a surfer believes to be unfairly judged, must be written on paper to contest officials.
In case of a tie, the highest raw score wins.
MANY OF THE SURFERS in the competition Saturday are experienced surfers who have surfed waters off California, Hawaii, Mexico, Central America and North Carolina. Most entrants are from the Tri-Cities area.
The contest is sponsored by the Tip-A-Few, Woodmark Sound Center, and Boland's Sun and Surf Wear, all of Grand Haven. Contest director is Bruce Boland.