Request to Amend Pier Jumping Bill 4699 for Surfer Access
Attachment 2
Grand Haven Tribune
November 11, 1975
Angry Lake Claims Two;
Surfers Rescue a Third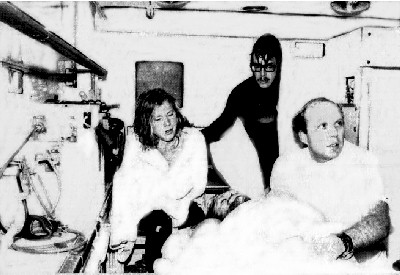 EMERGENCY MEDICAL TECHNICIAN Jack Roossien treats the three surfers for exposure in the ambulance at the scene of the tragedy. Seated at left is Bearle Eastling, 17, of Grand Haven, at right is Robert Beaton, 28, of Spring Lake, and lying on the stretcher is Steve White, 22, of Grand Haven.
By Lionel Spartz and Fred Vandenbrand
Heroic rescue efforts by three Grand Haven area surfers Monday night saved the life of a young Grand Rapids man who was washed off the south pier here into the stormy waters of Lake Michigan. But high winds, ten foot waves and a riptide that kept pulling them further out into the lake thwarted their efforts to save two other young men, who are now presumed drowned.
Search efforts, discontinued about 10:30 p.m. Monday night, resumed at about 8:30 this morning for the two young men, Duane Middleton, 22, Walker and Dan Brown, 16, Grand Rapids. The young man pulled to shore by the surfers, Douglas Middleton, 17, Walker, is listed in fair condition at North Ottawa Community Hospital.
Douglas and his rescuers spent over one hour in the 50 degree Lake Michigan water after the younger Middleton and his two companions were washed off the pier. A fourth member of that group who wasn't knocked off the pier, John Yonkers, 16, Grand Rapids, told the Tribune what happened.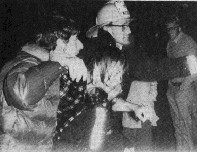 GRAND HAVEN firemen Donald Reed, right, and Charles Clark, left, carry Douglas Middleton, 17, Walker, who was rescued by surfers, to a wait-ing ambulance. (Tribune Photos by Lionel Spartz and Fred VandenBrand)
"WE WERE OUT DRIVING around after school," said Yonkers, "and we decided to go down to the lake and look at the waves."
The youth said that Douglas Middleton, who was driving the car, drove down to the Grand Haven State Park, and they all walked down to the south pier. It was about 5:30 p.m., and already getting dark.
"The waves were washing over the pier," said Yonkers. A heavy north wind, gusting at times to 30 to 40 miles per hour, had been stirring up to ten foot waves all day at the park.
Yonkers said that as they walked out onto the pier, he got his feet soaked as a wave washed across. He then held back as his three companions, the two Middleton brothers and Brown, continued to walk out further.
The young men were about a third of the way out on the pier, approaching the first light tower, when the weather took over. Yonkers said that Brown was the first one in the water, apparently washed off the south side of the pier by a breaking wave.
"Duane (Middleton) went in after Dan said Yonkers, "but he couldn't reach him. I couldn't see where he (Brown) went."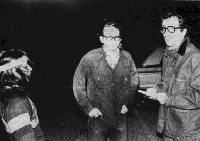 TRIBUNE REPORTER Lionel Spartz, right talks with John Yonker, center, 16, of Grand Rapids, one of the four Grand Rapids young men who walked out onto the south pier. He was hit by a large wave, but managed to hang onto a catwalk support.
At this point, Yonkers said that the younger Middleton tried to get back up onto the pier. His older brother, Douglas, laid down flat on the pier, reached down and grabbed Duane's hand. "A wave came and knocked both of them in," said Yonkers.
YONKERS REPORTEDLY ran for help after his three friends went into the water. Three area surfers, who had been surfing the big waves most of the day, happened to be on the pier nearby.
"I heard people yelling and then saw two guys in the water," said Bearle Eastling, 17, 15757 Ronny Rd. Eastling had been surfing most of the day with three friends. He, Robert Beaton, 28, 15770 Connally, Spring Lake and Steve White, 22, 14927 Mercury Dr., were carrying their surfboards on the pier when the three young men went into the water.
Eastling was reportedly the first one into the water, using his board to swim out to the Middleton brothers. Brown had already disappeared by this time. "We never saw him (Brown)" said Eastling.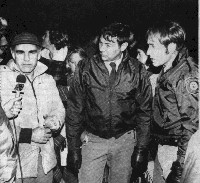 OFFICER WARREN SMITH, right, was the first officer on the scene and ran out onto the south pier. He was later joined by Officer Leonard Sleutel, center. At left is Police Chief Richard Klempel.
White and Beaton were in the water right behind Eastling, and the three of them linked their surfboards together, using them to keep themselves, and the two Middleton brothers, afloat. This all happened just shortly before 6 p.m., and was the start of a wave-tossed ordeal
that must have seemed to take forever.
"We'd start swimming in," said Eastling, "and the waves would wash over us." He said that a certain distance from shore they would get caught in a riptide running along the south side of the pier that "would suck you out real quick."
It would carry them towards the end of the pier, and they would just have to start swimming again. They made this circle about three or four times, according to Eastling.
That same riptide also kept them from approaching the pier closer than about 20 yards, which kept them from getting to rescuers standing on the pier.
POLICE AND OTHER RESCUERS on the pier were making attempts to get the five young men, whom they could see bobbing above the waves every few minutes, but the elements tied their hands. "It was a terrible, helpless feeling," said Grand Haven Police officer Warren Smith, one of the rescuers on the pier. "There was nothing we could do."
Officer Leonard Sleutel arrived soon after Smith with a rope.
They did make attempts, attaching a line to a fourth surfer, Will Beaton, 22, a St. Thomas Aquinas student and Robert's brother. The younger Beaton then attempted to swim out to the five, but his line started to drag him under. He had to return.
The Coast Guard sent a 40 foot rescue boat out, but it couldn't even come close to a rescue. "We couldn't go with it," said Chief Ed Salyi of the Coast Guard. "It's a flat bottomed boat, and only built to take six foot waves. We had eight footers out there, and couldn't have gone any closer to shore."
When the Coast Guard boat turned around, the surfers decide they were on their own. "When that Coast Guard boat turned, those two guys (the Middletons) almost gave up," said Eastling.
"We could see all these lights on the beach, all these people, just standing there doing nothing," said Eastling. "Just some guy standing up on the (pier) catwalk yelling 'help is on the way,. Finally we just decided to make a break for it."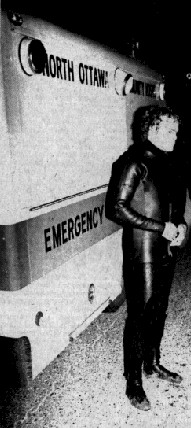 SURFER Bill Beaton, 22, assisted police and fire-men at the scene.
THE "BREAK" CONSISTED of swimming in as far as the undertow would let them, and then swimming hard for the beach, angling away from the pier. They were getting close to the beach when heavy waves broke the linked surfboards apart, separating the five swimmers. White lost his board, but hung on to the older Middleton. Eastling and Beaton stayed with the older brother, with Beaton eventually getting him to shore and safety. Eastling went to the aid of White, who was floundering without his board. White lost his grip on Middleton, but was helped ashore by Eastling. Middleton was apparently dragged back out into the lake.
The three surfers and Doug Middleton made it to shore about 7 p.m. Medical personnel on the beach rushed the four young men to a waiting ambulance, where they were first bundled up then taken to North Ottawa Community Hospital. Eastling,White and Beaton were given hot coffee, and later released. Middleton remained hospitalized.
BACK AT THE BEACH, State and city police, Sheriff department personnel, firemen, Coast Guard officials and civil defense workers stepped up their rescue efforts. A Coast Guard helicopter, equipped with flood lights, was flown in from Chicago and a 44-foot rescue boat, capable of taking the heavy waves, was brought in from Muskegon. Police fired off flares to light up the lake surface, but it didn't help. The bodies of Duane Middleton and Daniel Brown, alive or otherwise, were not recovered.
Police did report finding a shoe that washed onto the beach. It was later identified by Mr. and Mrs. Thomas Middleton, Walker, as their son Duane's shoe.
Douglas Middleton and Yonkers are both students at Kenowa Hills High School, Walker. Brown attended West Catholic High School.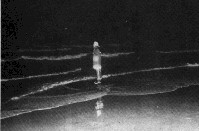 A Grand Haven fireman stands helplessly in the surf looking for a trace of the two missing men.
Shortly before rescue operations were suspended Monday night, city police Chief Richard Klempel said that "We have to keep on searching. There's always a slight chance they could still be out there," The search was stopped at 10 p.m., and was continued this morning.
THIS MORNING, following his night on the lake, Eastling said that they had very little time to think of while out in the water.
"It all happened so fast," he said. "If we had been out there much longer it probably would have been them or us."
Asked how he felt when he finally touched bottom at the beach, Eastling said one word: "Exhausted."
On the beach, a crowd of would-be rescuers, family members and assorted onlookers, rushed to the aid of the four young men as they appeared in the floodlighted surf. The crowd had been waiting with diminishing hope as the minutes ticked by following the initial alarm.
"I couldn't believe it when they came out" said Ben Boterenbrood, Grand Haven fireman on the beach. "I was beginning to think they were all gone."