Request to Amend Pier Jumping Bill 4699 for Surfer Access
Attachment 4
Grand Haven Tribune
September 13, 2007
Surfer saves dog swept off Lake
Michigan pier by big wave
Unusual rescue makes national news
Thu, Sep 13, 2007
BY CHRIS EPPLETT
cepplett@grandhaventribune.com
Jack Badgero didn't think a surfer's efforts to save his dog in Lake Michigan Tuesday afternoon would make national headlines.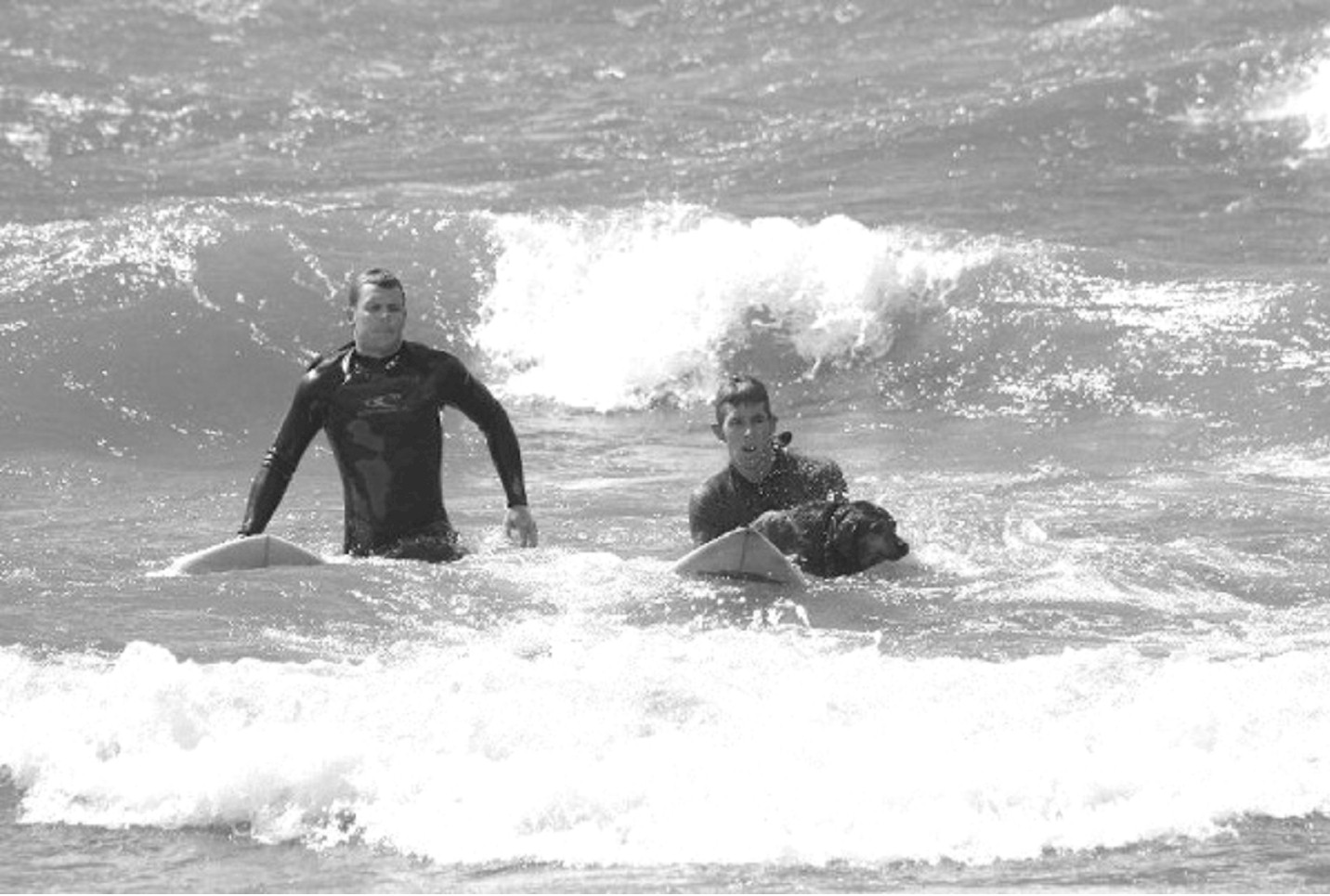 Grand Haven residents Joe Riopelle, left, and Matt Smolenski, make their way to shore Tuesday with a dog they rescued after it was washed off the pier by a wave.
(Courtesy photo/Matthew Doom)
Two days later, after his story was picked up by The Associated Press, the Ferrysburg resident and his dog have been featured on CNN and "Good Morning America."
"I didn't think this thing would be this blown up," Badgero said this morning at his home.
Around 2 p.m. Tuesday, a surfer rode a wave on his stomach to reach and rescue
Badgero's struggling dog, Shell-B, after she had been swept off the south pier by a big wave.
"She loves the waves," Badgero said of his 10-year-old black-and-brown mixed breed. "I could see the waves were getting big. One wave hit me and spun me around. Next thing I knew, Shell-B was swept off by a wave."
Just as Badgero began to panic, Matt Smolenski, 25, of Grand Haven came to the rescue on his surfboard, grabbing the pooch's collar as the exhausted Shell-B bobbed under water for the second time.
"I tried to reach for her — I couldn't get her," Badgero said. "She can swim and everything, but I was afraid that she was going to be overcome by exhaustion. I thought, surely, the second time (she went under) was going to do her in."
Fortunately, Badgero said, Smolenski put Shell-B on his surfboard and headed toward shore.
"She put her front paws on the board and stayed on there as best she could," Badgero said. "I told Shell-B just to hang on, hang on."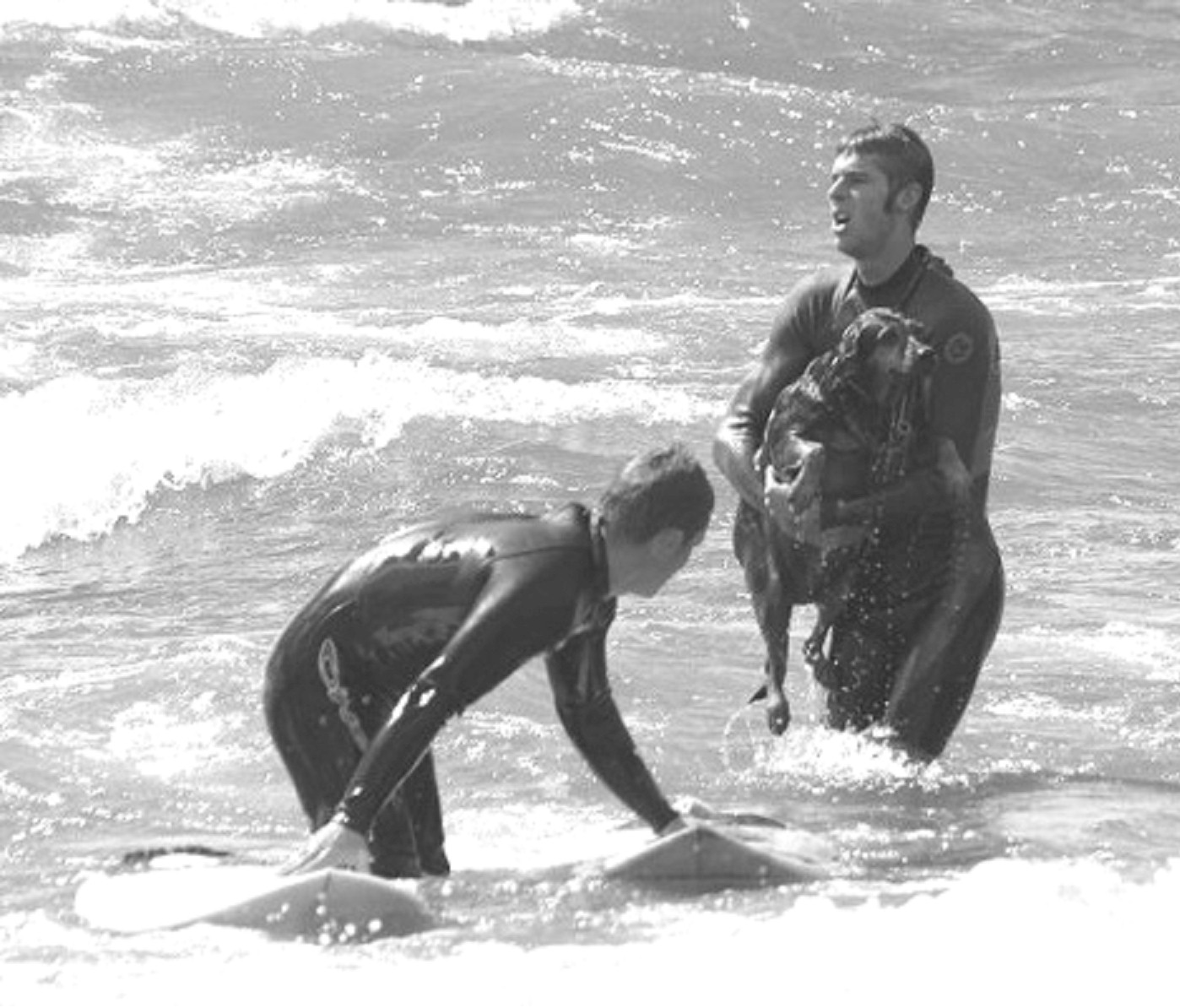 Joe Riopelle holds the surf boards while Matt Smolenski carries Shell-B out of the water Tuesday afternoon. (Courtesy photo/Matthew Doom)
As the dog hung 20, Smolenski held onto the board from the water, fighting large waves and a strong current all the way in to shore. A surfing buddy, Joe Riopelle, 24, also of Grand Haven, helped pull in the duo.
"I saw the owner walking toward me, talking to the surfer," said onlooker Matthew Doom, who was on the beach taking photos during the rescue. "I didn't know what was going on until I noticed him towing the dog on his board."
Smolenski said both Shell-B and Badgero looked familiar.
"I've watched the dog about a million times," Smolenski said. "He barks at the waves and then jumps back when they wash up on the pier."
It didn't surprise Badgero to learn Shell-B was a familiar face for the surfer — he walks her on the south pier almost daily.
"Everyone down on the pier knows her," Badgero said of Shell-B, named after sea shells near the B-side of the road outside the Florida shop where he purchased the canine.
"She's a real likable dog."
Shell-B was not on a leash when she was washed into the lake.
"They're always telling you how bad waves are, but I figured it was still early and they wouldn't be that high," Badgero said. "It was afternoon shock —you just don't know out there."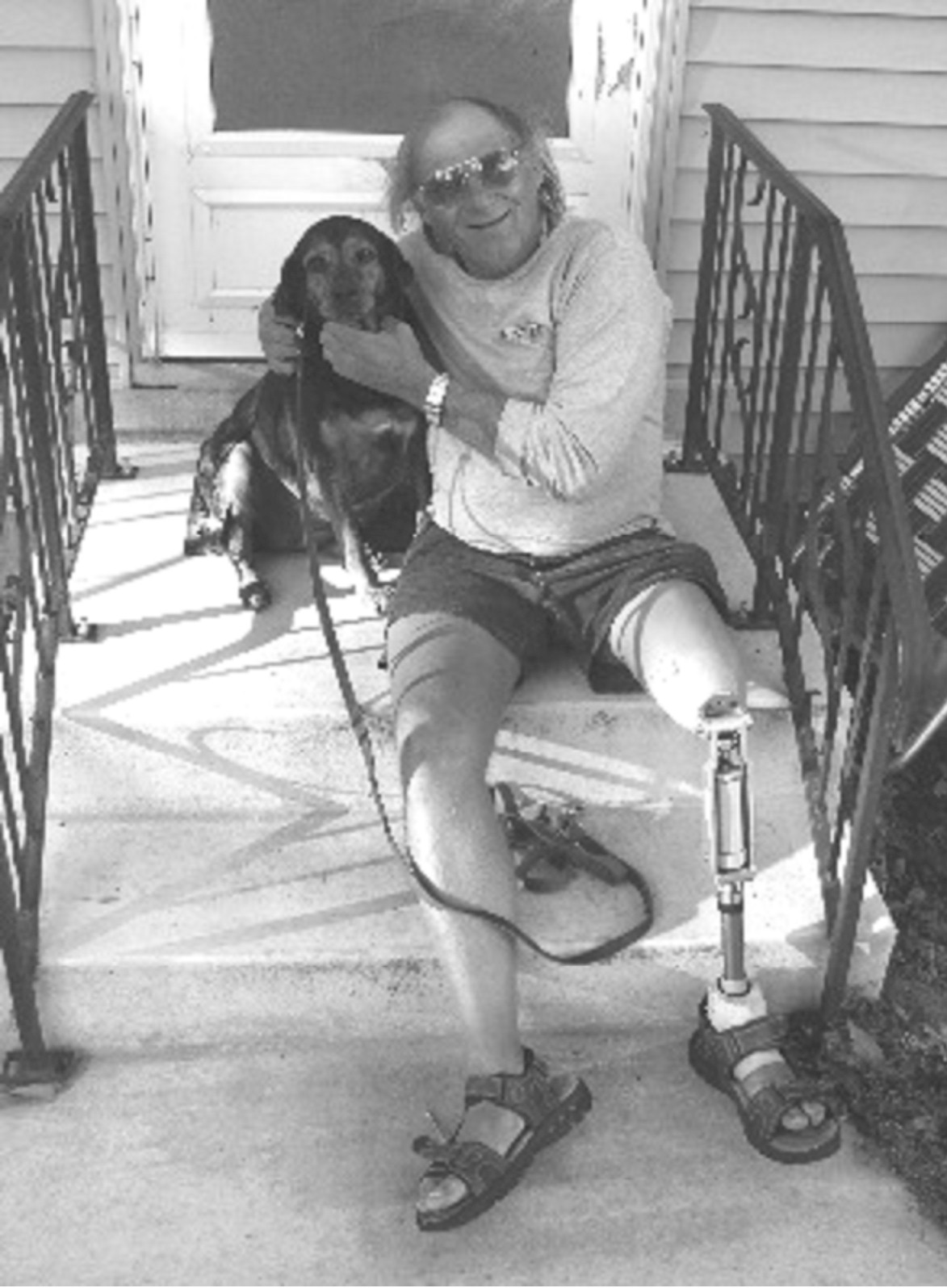 Ferrysburg resident Jack Badgero sits with his dog, Shell-B, who was rescued by surfers Tuesday after the dog was washed off the pier.
(Tribune photo/Chris Epplett)
Badgero said it's the first time Shell-B has ever been swept off the pier, but there have been some close calls in the past.
Last year, a large wave washed over Shell-B. But once it cleared, she reappeared, unharmed.
In another close call, a man threatened to throw Shell-B in the lake when she wouldn't stop barking. After he picked up the dog, Shell-B bit the man in the leg.
"I just said, 'I didn't tell you she was from Florida — she has alligator in her," Badgero said.
Shell-B has recovered nicely from Tuesday's brush with the Big Lake, according to Badgero. Meanwhile, he's just thankful Smolenski was there to rescue her.
After Shell-B reached shore, she ran to her owner as Badgero walked up to thank Smolenski and Riopelle, giving them high fives. Badgero quickly left the scene to bring
Shell-B home to recover — forgetting to get Smolenski's name.
But when he saw Smolenski and Riopelle identified by the local media, he gave the heroes a phone call.
"I wanted to thank them," Badgero said. "I just told them, 'if you're going to the Salmon Festival, the drinks are on me.'"
The Associated Press contributed to this story.