The Grand Rapids Press November 2, 1974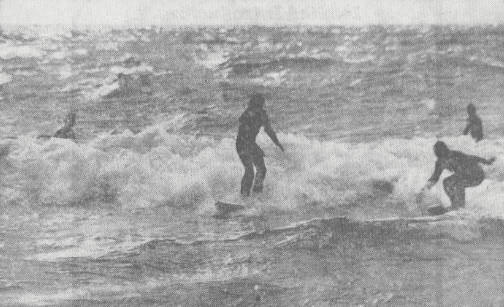 Lake Michigan Surf Sometimes Draws a Crowd
Big Waves of Fall Lure
Lake Michigan Surfers
Text, Photographs by Jim Reinhardt
GRAND HAVEN—To a number of hardy young men in the Grand Haven-Spring Lake area, the West Coast isn't along the Pacific Ocean.
Except for the warm weather, the waves, sun and sand of Southern California are also present off the pier at Grand Haven State Park, where numerous youths are engaged in a water sport somewhat odd for this time of year in West Michigan — surfing.
Oh, the Grand Haven waves of four to seven feet aren't nearly as imposing as those found in more exotic climates, and surfers there wouldn't find a wet suit a required piece of gear to protect against 40ish water temperatures.
But the local surfers, mostly high school and college youths, still are drawn to the pier whenever possible during West Michigan's prime surfing season, which starts in September and ends with the first Great Lakes freeze.
When the wind is right, preferably a strong, steady flow from the west or northwest, as many as 30 wave-riders can be seen "hanging ten" off the beach.
About a fourth of the surfers are novices from Grand Rapids and Holland, and their presence upsets some of the hard-core enthusiasts.
"You used to be able to come down here almost any time when the surf was right without a lot of people crowding you," one local surfer griped. "That isn't the case anymore."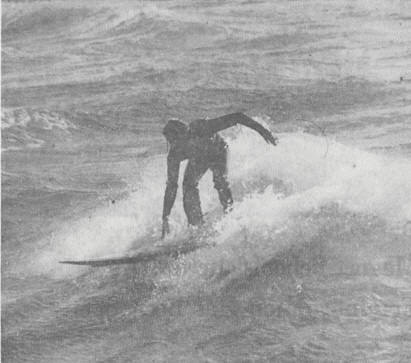 A Surfer Catches a Wave Off Grand Haven Pier
About 20 youths from the Tri-Cities area can be considered second-generation members of the old Great Lakes Surfing Association, which was formed in 1964 but disbanded when many of it members departed for warmer climates a few years later.
Seventeen-year-old Bill Pushaw of Grand Haven is typical of the new breed of wave riders. Pushaw with three years experience under his wet suit, is continued by a tradition started by his older brother, Jim.
"He started surfing about 1964," Pushaw said of his older brother. "Back then, there were only a few guys who got into it. Since then, though, most have taken off for the coasts or south to Mexico. Right now my brother is living in Hawaii catching the big ones."
Berle Eastling, another 17-year-old from Grand Haven, said the Grand Haven waves are somewhat smaller than the 10 to 12-foot waves he encountered during a surfing trip to Cape Hatteras off North Carolina.
But local waves, especially when they are aided by a strong northwesterly wind, really separate the men from the boys," he added.
The "rock pile" also has a tendency to separate the men form the boys because of injuries occasionally occur near the rock-laden pier.
"Nothing really serious happed out here—yet," said Tom Cox, 17, of Spring Lake. "Some guys get unlucky and get their boards broken, sometimes ending up with bruised arms and legs, but that rarely happens.
"After a while," Cox said, "you get to know where to surf and where not to."