The Detroit News July 7, 1987
RADICAL!
Catch a Great wave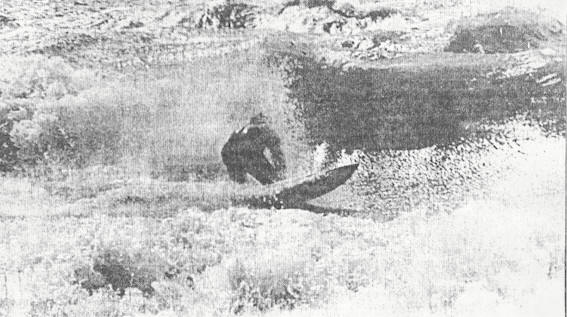 Jeff VanHouven rides what he calls "very hot waves" last summer on Lake Michigan near Montague.
Stormy weather's music to surfers of the Great Lakes
By David Koclenlewski
News Staff Writer
If everybody had an ocean, like Californ-i-a,
Then everybody'd be surfin', surfin' U.S.A.
—The Beach Boys, Surfin' U.S.A. 1961
Who needs an ocean?
With four Great Lakes, a little turbulent weather and the occasional waves induced by a steaming freighter a handful of Michigan residents have had fun, fun, fun surfing off the state's shores for more than 20 years.
THE NATIONAL resurgence of surfing and surf fashions also has brought renewed interest in catching waves on the Great Lakes, according to members of the Great Lakes Surfing Association (GLSA).
The association had its third annual Fourth of July competition in Ludington Saturday.
"A lot of people think it's a hoax when they first hear about it," said Dave Irwin of Bloomfield Hills, GLSA president. "But once you experience the feeling of a good ride, it's hard to stop thinking about them."
GEOGRAPHY HAS forced Great Lakes surfers to be part meteorologist, part polar bear.
Waves on lakes Erie, Huron, Michigan and Superior average only 2 to 4 feet most of the summer. That means surfers spend much of their spare time listening to all-weather radio stations and examining the newspaper nautical charts. On weekends when surf's up, the GLSA has a hot line system, which assigns each member two telephone numbers to spread the good news.
"When there are small craft advisories, it's pretty good out there," said Kirt Manecke, a GLSA member who owns a surf shop near Keego Harbor. "And when there are gale warnings, everyone gets in their car and heads to Sterling Park (in Monroe, south of Detroit). Storm surfing is the best."
Summer is actually off-season for the most radical GLSA members. Prime surfing months in these parts are March through May and September through early December — when waves reach 8 to 10 feet, water temperatures dip into the 40s, and surfers insulate themselves with rubber dry suits and booties.
GREAT LAKES waves may not impress beachcombers from Maui or Monterey, but a short story or two about surfers trudging through the snow to reach the beach at Muskegon is enough to shock even a Californian.
"I've seen pictures, and the surf looks fair," said Paul Holmes, editor of Surfer Magazine in San Juan Capistrano, Calif. "What's really impressive is the attitude. There are some real keen surfers up there. They're a hard core bunch of guys."
The GLSA was founded in the mid-1960s — when the Beach Boys topped the pop music charts and movies such as Beach Blanket Bingo, starring Frankie Avalon and Annette Funicello, made nearly every teen-ager eager to catch a wave.
In the early '70s, as interest in surfing went the way of the mini-skirts and hula hoops, the GLSA disbanded. It wasn't until 1984, when Irwin returned from California, that he and some fellow surfers on the Lake Michigan shore near Grand Haven decided to revive the organization.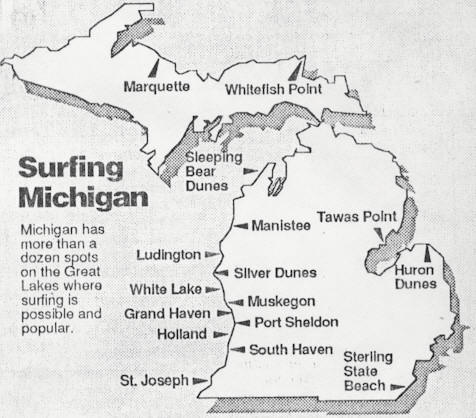 THE GLSA now has nearly 300 members, from as far away as Chicago, Green Bay, Wis., and Rochester, N.Y. About a third of the members are from Metro Detroit, Irwin said.
"The Great Lakes are really freshwater seas," Irwin said. "there's something about being able to surf in your home area that makes all those flat spells worth the wait."
The Great Lakes' oddest contribution to surfing were the "freighter-wakers" who cruised Lake St. Clair during the late '60s and early '70s. Those were the days when ore freighters crossed from Lake Huron to Lake Erie at high speeds, throwing off wakes of 10 to 12 feet.
Jim Burnett of West Bloomfield was 14 when he and a friend first paddled out on surf boards from Harsens Island, touching their hands to a 100-ton freighter and pushed themselves off to ride its wave to shore.
"IT WAS like an ocean," Burnett said. "If you stayed up near the freighter, you could ride the ship as far as it was going.
"The sailors thought it was great. They used to watch us from the other side of the rails. The only ones who didn't like it were the Indians on Harsens Island. They used to shout names at us when we crossed over their reservation."
Freighter-waking died out in the early '70s, when lakeshore homeowners complained about high wakes damaging their docks and ships were forced to slow down. Burnette, now 37, soon quit surfing and now competes at archery.
Those who stuck with surfing are forced to make do with what Mother Nature can muster.
IDEAL SURFING conditions require winds that blow toward the shore at a minimum of 15 mph to 25 mph. Waves that curl over into tubes or "Green rooms" are rare, and the lakes' sandy bottoms make even the best Great Lakes waves too choppy for purists.
But with at least eight surfing spots within a three-hour drive of Detroit — including Grand Haven, Michigan's "Surf City" — the commute is easier and less expensive than flying to Long Beach.
"It's more like the Gulf of Mexico than California," said GLSA member Scott Richards, 16, of Livonia, who spends part of each summer watching professional surfing competitions in California. "But once you've done it, surfing becomes your life. So you're willing to give it a try."
GLSA members surf everywhere — Whitefish Point on Lake Superior, Oak St. Beach in Chicago and Lemington Beach on the Ontario side of Lake Erie.
ONSHORE, THE scene is more like an MTV party than a Gidget movie. Irwin said surfers are reluctant to draw police attention by starting bonfires or camping out on the beach. Instead, the GLSA usually throws parties in hotel rooms after a meet.
Music is still an important part of every surf party — everything from '60s bands like the Beach Boys and Ventures to new wave groups such as Oingo Boingo, the Bangles and the Violent Femmes. But the highlight of the evening are the videos of various surfing competitions.
"People who are into surfing are usually into trends," Irwin said. "That's why about 70 percent of the surfers from around here are from Oakland County. And why none of them listen to heavy metal."
Irwin is quick to challenge the stereotype that surfers are burn-outs who spend their lives on the beach. GLSA members are students, teachers, construction workers, artists, engineers and, of course, surf shop owners.
But he admits surfing appeals to the restless. Just last week Irwin gave notice that he's leaving his job as an insurance company appraiser to study broadcasting.
"Surfing makes you look at things differently, like your life is something to be enjoyed," he said. "That's why most surfers hate regimented careers, where you're in an office from 9 to 5, missing all the best waves. I don't think I've ever seen a surfer who's a stockbroker."