---
Grand Haven, Mich. December, 1893
---
12/1
This weather puts a stop on the slating of the new Court House.
William Watson it is reported will challenge the winner of tonight's wrestling match.
You can put down in your diary that it snowed enough Thanksgiving Day, 1893 for sleighing.
The tug Crosby arrived here with the scow Bob Rice Wednesday night. The Rice was loaded with the cargo of staves from the wrecked schooner Wonder on the beach at Pigeon Creek. The wonder is still on the beach high and dry and is in a leaking condition.
The U. of M. defeated the University of Chicago at football yesterday 28 to 10.
The staves from the cargo of the schooner Wonder are being taken to the planning mill.
The U.S. steamer Hancock, government tug Graham and U.S. dredge and pile driver are all laid up here.
As usual, Co. F's annual ball last evening proved to be one of the events of the season and one of the most successful ever given by Co. F. The night was a typical winter's night, but this did not prevent the hall from being crowded to its capacity and when the dancing commenced there were about 150 couples on the floor. The light and fantastic toe was tripped until the early hours of December 1. Wm. VanDrezzer prepared the supper and gained for himself an enviable reputation, as the menu was pronounced fine by all who partook of it. Besides the many Grand Haven people who attended there were many visitors from Muskegon, Nunica and other towns. Coopersville sent down a large delegation. The music was furnished by Beerman's orchestra of Muskegon.
This makes suitable holiday weather.
The small boy is out in force on the streets today, hitching, as they express it.
Last night was the coldest night since last winter, the temperature going as low as 10 above.
The marshal should have a standing reward for the conviction of all persons breaking electric light globes.
Capt. James Beauvais of the U. S. steamer Hancock was once a member of the celebrated mounted police of Canada.
The interest taken in the wrestling matches has revived general athletics in Grand Haven and before spring if talk goes, there will be a number of wrestling and sparring matches.
Cannon won the second fall last night on what is known as the dizzy shake. He grabbed Andres and threw him around in a circle four times, and then let him down on two shoulders, according to the referee.
The schooner Wonder will probably be left where she is high and dry until next spring.
Johnston Bros. have built for the electric light plant a new oil tank 19 feet long and 8 feet through.
Mr. Tom Cannon in his match with me has been fair and square and Mr. Chas. Reghel, the referee gave his decision I think conscientiously and in fair manner.
WM. L. ANDRES.
Billy Andres Wins.
Local pride was let loose at the Opera House last night when the announcement was made that Wm. L. Andres was the winner of the wrestling match between him and Tom Cannon, the Buffalo professional; and the great audience shouted itself hoarse.
The Opera House was filled with people. Before the match of the evening, preliminary sparring was indulged in by local talent. Wm. Mehre and Lou VanDrezzer put on the gloves and did some scientific work. Two small boys also gave an exhibition of sparring, and Wm Duram appeared in Indian club practice.
The two gladiators, Andres and Cannon, were preparing for their match and when they appeared looked in the pink of condition. Cannon's muscle showed up wonderfully and he had the build of an athlete.
What his opponent, Andres, might have lacked in knowledge of the tricks of wrestling he made up by his great strength and quickness. In the course of the evening "Billy" also caught onto Cannon's favorite holds and tricks, and the general consensus of the opinion of the close, was that Andres was almost as good scientifically as Cannon. This too, when he is not traveling over the country as a professional.
All of the bouts last night were in the catch and catch can style. Cannon won the first in about five minutes. Twelve minutes after, the referee, Mr. Chas. Reghel, gave Cannon another fall. The audience were not of Mr. Reghel's opinion, and all were in position to see united in saying that Andres' two shoulders were far from down. But Cannon was given the decision and in 17 minutes had two throws to his credit. As pretty an exhibition of wrestling as was ever seen followed. Both were wary and refused to go down, every opportunity was jumped at, and at the end of 85 minutes, Billy secured a terrible hammer lock on the professional, or as it is some times, known "an arm up the back." Cannon lay face down and powerless. A little more effort and his arm could have been broken by Andres. Cannon knew his predicament. He was beaten. He asked his opponent to let up, and not break his arm. Andres good humouredly asked him if he was willing to call it a fall. Cannon was, and Wm. L. Andres was winner of the match. Then the audience went wild. Their favorite had won. The match appeared to be honest too, and was won on its merits.
Immediately after the match Cannon challenged Andres to a mixed wrestling match for $50 aside to take place next Friday evening. The articles of agreement call for one bout catch and catch can, one Greco-Roman and a toss up as to style of third bout.
Geo. D. Sanford in February last planted some cotton seed and has at is home the first crop of cotton ready to gather. To any one who has never seen cotton growing it would be quite a sight.
Tom Cannon left today for Grand Rapids to prepare for his coming match with Wm. L. Andres.
Lumbermen are leaving for the camps.
Horse flesh continues to be a drug on the market.
Escanaba has 14 doctors, Grand Haven has 8.
Grand Haven life saving station closes at noon next Sunday.
The soft sandy bottom still makes sleighing poor on the county roads.
The steamer Sampson will make another trip from Eastmanville to the Rapids if the river desists from freezing over.
Rev. Ira R. Hicks, the weather prophet, predicts this, December, a stormy month.
The Grand Haven carpenters who have the contract for the wood work in the Court House will not begin until next year.
There will be an immense crowd at the Opera House next Friday night to witness the wrestling match between Tom Cannon and Wm. L. Andres.
An English capitalist has submitted a proposition to put in a deep water channel between Grand Haven and Grand Rapids and charge a toll to pay him for his investment.
An opening is being made in the D., G. H. & M. trestle works bridge near S. Kilbourn & Co's plant so as to allow logs being brought under for the mill. The first spile was drove Saturday by the Grand Trunk spile driver. The C. & W. M. track over the bridge is now being used exclusively.
Death of Capt. James Webber.
Capt. James Webber died at four o'clock this morning at his home on First St. His death was caused by heart trouble, although he had been ill for some time with a throat disease, and for the past several months was scarcely able to speak above a whisper. Nevertheless, the news of his death was a surprise to many of his friends her, as he was able to be around most of the time, and in fact had been sailing nearly all the season.
Capt. Webber was born in Ireland 48 years ago, coming to this country early. He enlisted in the U. S. Navy in January, 1863, when the civil war was at its height. He served on the U. S. steamer Shephard Knapp until April, 1864, when his term of service expired.
For many years he has been identified with the marine business of Grand Haven and from 1874 up to last year he served as captain on vessels belonging to T. W. Kirby. The first vessels he commanded for Capt. Kirby was the William Burns. After the Burns he was put in command of the S. A. Irish, and was out in the storm in which the Alpena went down, with that vessel. The Irish left here the afternoon of the same day as the Alpena, and Capt. Webber believed that he saw the Alpena out in the lake in that memorable gale, a short time before she went under. Capt. Webber brought the Irish into Milwaukee safely.
After the Irish he commanded in the order given, the City of Grand Haven, steamer Joe and the Sprite. Many remember him as captain of the Joe, which steamer carried many a pleasant excursion form this city to Fruitport.
The past season the captain sailed on the barge Peshtigo.
During his years on the lakes he made Grand Haven his home. His first wife died some years ago, leaving three sons, George and John, now in Chicago, and James, the youngest, who has been living here.
It is not a year ago that the captain was happily married to Miss Emma Wesch, of this city and who with three sons mourn the death of an indulgent father and kind and loving husband. His death comes as a particularly heavy blow to Mrs. Webber, because of the short married life.
Capt. Webber was always a temperate man and delighted to say that he did not know what the taste of liquor was; something very remarkable, especially for a man of his calling. He was a good citizen and neighbor and the world was the better for his living.
The deceased was mustered into Weatherwax Post G. A. R. on May 6, 1885 and was one of the few grand army men in this city, who served in the navy during the great conflict.
A few years ago he entered the Shipmasters Association of Chicago and was still a member of that organization.
The bereaved wife and family of the deceased have the sympathy of the entire community in their great bereavement.
Funeral will occur Wednesday afternoon from the residence on First St.
The bartender at Chas. Reghel's saloon broke his leg while engaged in a little wrestling match Saturday afternoon.
A little blaze at Dake works called out the fire department at three this afternoon. The blaze was extinguished without their aid.
The steamer Mary H. Boyce was to leave Chicago for this port today noon, to lay up for the winter. The Boyce will be the last to arrive of our winter fleet.
Wap Say, who lives near Hartford, is a Pottawatomie Indian and claims to be 110 years old. He remembers no recent happenings, but has a distinct recollection of the Fort Dearborn battle on the site of Chicago.
The Grand Haven correspondent sent the following yarn to the Detroit Free Press: Robbers Wednesday night stole about 100 chickens from the hennery of H. Holcomb, a farmer living near here, but in their haste to get away lost a pocketbook containing $75.
The TRIBUNE stated that Muskegon police compel all midnight prowlers to give an account of themselves. This is what the Chronicle says in return: "Chief of Police, Murphy, when the above was read to him, branded it as a lie. He said: "You tell Grand Haven she has got her hands full to look after her own prowlers, and if she will keep them away from Muskegon it will save us a lot of trouble."
The 2:10 D., G. H. & M. train ran off the track near the trestle works this afternoon and it took 20 minutes before she was righted.
Grand Haven has 15 grocery stores.
Christmas is only 20 days away.
Mr. John Donker, who celebrates his 81st birthday tomorrow, is one of the oldest residents of Grand Haven, having resided here 39 years.
A choral society is being organized in this city under the direction of Prof. Francis Campbell. The best musical talent of the city will be members.
At the annual election held last evening, John Fisher was elected foreman of the hose company and John Van Dongen assistant. John Loch was elected foreman of the hook and ladder company and D. VanderNoot assistant.
Wm. Carturight and Frank Smith, two vags, were sentenced to six days and five days respectively this morning. On the way to jail both kept industriously picking up cigar stubs, which they will smoke during their imprisonment.
The secretary of the treasury estimates that Grand Haven Harbor needs $115,000 for improvements the ensuing year. Holland, he estimates, should have $150,000 and Muskegon $154,000.
After all, the frosts and snows of northern winters are more invigorating and less depressing than the slush, mud, rains and humid fogs of warmer sections. Their springs and autumns are best, but our crisp winters equalize the account. Make the best of them says an exchange.
The Muskegon Chronicle says that Grand Haven was well represented at the tax sales in that city yesterday.
The schooner Hunter Savidge went on the beach near Sand Beach Sunday morning but was not badly injured.
The Misses Gertle and Minnie Sprick had a runaway yesterday. Neither of the occupants of the cutter were hurt and the horse was stopped down town before doing any damage.
Will VanWormer and John Wilson have leased the third floor of the Gray block and will conduct a roller skating rink there this winter. The rink will be opened next Saturday night and everybody is invited.
It is reported that Wm. VanDrezer and Hugo Bloecker will appear in a wrestling match at the Opera House, Friday night.
At the meeting of the Young Men's Band of Christian Workers last evening an important step forward was taken. It was decided to convert he Band into a Y. M. C. A., the change to take place the first of next year. There will be no gymnasium or bathrooms in connection with the association at present, but in time they will undoubtedly be added.
The residents along the border line of Grand Haven and Olive townships are at present engaged in a little war, which started yesterday. Somebody discovered that the fence supposed to be on the Olive township boundary line instead ran along the Grand Haven township. At a meeting held at Abe Harris's yesterday, it was decided to notify those residents of Olive who had fences in Grand Haven township road, to have those moved back to their regular line. A number of the Olive residents protested and a little skirmish of words started between the representatives of both townships. Several of the Olivites threatened to wipe the earth with the Grand Havenites, among whom were Jos. Edwar, Abram Mastenbroek Esq, Abe Harris. Luckily the meeting dispersed without any blows being struck, but a number of the Grand Haven representatives are in the city today with the intention of getting out warrants for the arrest of the Olive ring leaders for threatening violence. The township people also swear that they will see that the Olive residents move their fences or law will be resorted to.
The steamer Roanoke had about twenty passengers on her arrival here from Milwaukee this morning.
There are now 165 men on the pay roll of the Challenge Corn Planter factory.
The schooner Hunter Savidge which stranded at Sand Beach the other day has been released.
A C. & W. M. furniture car ran off the track on the spur line opposite the D., G. H. & M. depot last night. Both trucks went off but the car was not overturned.
The freight handlers now watch eagerly for the arrival of the steamer Roanoke and as she comes up the harbor, make estimates on the cargo she carries.
A few years ago George Hancock introduced celery culture into Ottawa county. The last season 800 acres of land were devoted to the production of that celebrated herb, and it is estimated that 900 more will be planted next season. Hundreds of people make a living cultivating and preparing it for market, and several Grand Haven men have amassed small fortunes in the business. Thousands of dollars roll in annually for shipment to all parts of the country.—Detroit News.
The Roanoke had a cargo of 860 tons this trip, the largest load of the season.
One thing Grand haven out to be thankful for is the fact that we have had no disastrous fires recently. The only fire of any consequence this year was the burning of the wrecking tug A. J. Wright last January.
Wm. Barnett is rising rapidly in his profession. When the Mary H. Boyce started out this season he was second mate of that boat. Before the end of the season he was first mate. Capt. Trail, formerly first mate of the Boyce, was with the Alice M. Gill the latter part of the season.
Capt. Kirby had the flag on his flag staff at half mast out of respect to Capt. Webber who had commanded his boats for so many years.
The TRIBUNE is informed that there are 17 Holland people in this city who are over 80 years of age. The eldest Mr. Johannes Fisher is 92.
James Patton known as "little Jimmy the drummer" paid the shoemen his regular visit yesterday. Jimmy is a dwarf in stature, but a hustler.
The annual meeting of the Valley City Transportation Co. was held in Grand Rapids yesterday. Secretary Craig's report showed a large mixed deficit and proved that river navigation does not pay. The reports also show that the largest load of freight ever carried by Valley City was four tons, while her capacity at low water is forty-five to fifty tons.
Tom Cannon arrived in the city this morning and will be prepared for his wrestling match with Wm. L. Andres Friday night.
Anchor ice has already formed off Manitowoc, which is unusually early.
A dredge is still at work in the river at Manistee and will have a channel eighteen feet deep all the way from the mouth of the river to the first bend.
"Why is it," said a citizen today, "that Grand Haven does not get up some public spirit and do its duty by the suffering miners of northern Michigan. We should be able to give 40 or 50 barrels of flour, at least, or send boxes of clothing and provisions. The misery and poverty of the towns is not over estimated by the newspapers and to the residents of that community it is only a question of starving or falling upon the charity of their more fortunate fellow citizens. A number of cities responded nobly to the call for help made by Grand Haven after our big fire and Grand Haven should do a little something in the way of charity."
We will have a skating rink this winter. Now how about a toboggan slide.
Second St. Hill is becoming a popular rendezvous for coasters as it has been for some years back.
Fred VandenBerg of this city, has been a member of the Ludington life saving station the latter part of the season.
Governor Rich fears that unless the mines of the upper peninsula are not opened shortly there will be serious riots there.
The board of engineers appointed to investigate have reported that raft towing on the great lakes is an impediment to navigation.
The big wrecking tug Merick which for the past few winters has been at this harbor keeping the channel clear of ice for the steamers Wisconsin and Roanoke is on its way here again from the lower lake to perform the same duties as previous years.
There is a good deal of genuine betting on the wrestling match between Cannon and Andres at the Opera House tomorrow night. One man has $40 on Andres and there are a number of other smaller bets. Cannon is himself doing some betting.
The electric plant is out of fuel oil, it being overdue, and the lights were not lit last evening.
The roller skating rink in the gray block opens Saturday night. Gentleman skaters will be charged ten cents and ladies five.
The 9 o'clock D., G. H. & M. train east this morning had more passengers than any train east for some time.
The freight steamer Osceola is expected here in a few days to remain this winter. The Osceola is owned by the Botsford Co. of Port Huron, which company also partly own the Roanoke. The Osceola will also probably be used between here and Milwaukee in case of an emergency.
Many of the big railroad lines of the country on which fast trains are running have water conduits on the side of their tracks at certain places from which water is taken by the locomotive without slacking up.
Women's Club.
At the session of the woman's club on Saturday last the program was furnished by the miscellaneous committee, who opened their program with a piano duet by Mesdames Koster and Simpson. A recitation was given by Miss McMillan. After which Mrs. Ella Griffin McNett gave an interesting description of life in New Zealand as furnished her by relatives living in that country. Miss Cochran gave a selected reading and vocal music was furnished by Miss Cairns.
The program for Dec. 9 is as follows:
Growth of the Territory of the United States, Miss Squier.
Discussion, "Shall We Annex Hawaii?"
Affirmative, Miss Alger:
Negative, Miss Hamel,
Development of the national Resources—Especially by Agriculture, Miss Hancock.
Mining and Minerals, Mrs. Kedzie.
It was a jolly party that left the city last night to attend the dedication of Spring Lake's new town hall and engine house. The party consisted of Mayor Bloecker, the council, the marshal and also Mayor Ward of Flint the Court House contractor. The exercises of the evening were held in the new hall which is one of the finest for a village of Spring Lake's size in the state. President Lyman turned over the key of the hall to Hon. Thomas Savidge in behalf of the people of Spring Lake. Mr. Savidge responded in a short speech. Mayor Bloecker of this city, Mayor Ward of flint, Alds. Thieleman, Lockie, Nyland and others made remarks. Dr. C. P. Brown kept the meeting in good humor by side remarks in his usual vein. After the proceedings attendant upon the dedication of the hall many of the participants including the Grand Haven council men repaired to Dr. Brown's office assed the evening until about 10:30. The Grand Haven party speak very highly of the Spring Lake councilmen and of the pleasant time they had. The new hall cost $2688. Work on the erection was started shortly after the big fire of last spring.
Of the lives lost on the great lakes the past season 59 were lost on Lake Erie, 33 on Lake Huron, 12 on Lake Michigan, 10 on Lake Superior, 5 on Detroit river and 4 on Lake Ontario. Of the immense crowds carried on the lake steamers during the world's fair year but one passenger was lost, the Chicago real estate dealer, who fell off the City of Toledo near Jackson Park. Three passengers, however, committed suicide by jumping overboard. One was from the Goodrich liner, Atlanta, one form the whaleback, Christopher Columbus, and another from the Badger State.
The Maccabee lodge of this city is the largest lodge of any kind, in point of membership in the country.
Muskegon had a population of 22,702 census of 1890. Next spring's census will show less than 20,000.
Rev. Brewster Hubbs of Grand Rapids is surprising the people by preaching socialistic sermons.
A handsome flag pole was placed on the highest point of the new Court House today. The pole is 30 feet high and also has a weather vane on it.
Many of the citizens who watched the workmen place the pole on the tower of the new Court House today congratulated themselves that the job was not theirs.
The glass factory is now working eight hours a day.
What Grand Haven years for is a disastrous conflagration with mad, fierce billows of flame leaping up towards the sky. The town has had but one fire this year, and that was the big ice tug A. J. Wright burned last January.—G. R. Democrat.
This soft snap is knocking out the sleighing.
The floating ice on the river is a great roosting place for hundreds of sea gulls.
In early days Ferrysburg, Spring Lake and Eastmanville used to be quite important ship building points. At Eastmanville the Mary Amanda, W. H. Ginham, Willie Loutitt and New Era were built. The Fearless, Knapp, Laketon, Noah H. Ferry, Maumee Valley and R. P. Mason came out of Ferrysburg. The Carvet and J. G. Warts from Spring Lake. At Holland the Beloit, Jones, the Josiee and Wm. Smith were built. The Historical compendium of Ottawa County mentions the following vessels of over 100 tons built in this city; schooners, A. J. Jackson, Chas. E. Wyman, David Macy, Mary E. Cook, Ottawa, Robert Howlett. Propellors, Albert Soper, City of Grand Rapids, Grace Patterson, Major Pickands, S. C. Hall, Tempest, White & Friant. Barges, City of Grand Haven, City of Grand Rapids, C. O. D., Hunter Savidge, Transfer, Wolverine, Alice M. Gill, T. R. Scott. Chas. A. Street, Mary H. Boyce, Mary A. McGregor, Sachem, Ionia; Steamers, H. C. Akeley, McCormick, Mark Hopkins, Samuel Marshall, J. C. Ford. To this list could be added the Pentland. Most of the mentioned vessels are still in service on the lakes.
Wm. L. Andres has received a challenge from an Ann Arbor wrestler who wants to meet him.
John Craig and John Miller firemen on the steamer Roanoke filled with firewater last night and were each sent to jail for six days by Justice Pagelson this morning.
In response to a call published in the TRIBUNE Nov. 28, there was sent to the W. C. T. U. headquarters a generous supply of fruit, bedding, literature, etc., for which they have received from the management of the Woman's Home & Hospital, grateful acknowledgement.
Grand Haven has a typical old salt in the person of Capt. Harry Smith. The captain is now 90 years of age and has had an eventful life. He has commanded a slaving vessel, and also a vessel engaged in carrying ivory from the African coast. During the Mexican war he commanded a United States dispatch steamer. —Detroit Journal.
Some months ago it will be remembered that a prisoner who gave his name as Phillips attempted to commit suicide in a cell in the county jail. He devised a rope out of a bed quilt and almost succeeded in leaving this world. This week an unknown man supposed to have been a tramp was found hanging in a barn at Hopkins Station. From the description given he is said to have been the same man Phillips.
Tom Cannon has a wrestling match in Milwaukee next week.
Keep your sidewalks clean of snow or sprinkle them with salt or sand.
The M. E. Entertainment.
The entertainment at the M. E. church last evening was pronounced one of the best church entertainments ever given in Grand Haven by all who attended.
Rev. Thomas of the M. E. church opened with prayer and a few appropriate remarks. A song of welcome by the choir followed. The elocutionary readings by Miss Edith Parish were of a fine order, and were spoken in a manner that showed her heart was in the work. Miss parish as an elocutionist is gaining a state reputation and her many friends in Grand Haven would be pleased to hear her again in the near future.
The tenor solo by Mr. A. M. Barden stamped that gentleman as a vocalist of the first order. He received many compliments from a number of Grand Haven's best local singers who were present. Considering that it was Mr. Barden's appearance in a public entertainment, he did remarkably well, and he has a voice of much promise.
Mrs. Rev. Thomas' violin solo s rendered beautifully. Her voice is superb.
Miss Thompson's violin solo was rendered in a fine manner and her orchestra pleased the large audience present.
The male guitar trio and ladies quartette all rendered their parts well.
The entertainment was a success in every way and enough cleared to purchase books for the church and choir.
The Wrestling Match.
"Billy" Andres has always been a sort of popular local hero in Grand Haven and he retained that honor last night by again defeating Tom Cannon, the professional wrestler. The Opera House was crowded. A number of Grand Rapids sporting men were present to see the match and a number of bets were posted.
The first event of the night was a three round sparring contest by Wm. Heavy and Patrick Hagen, well known glass factory employees. Several hot blows were exchanged, but both tried not to hurt the other very badly. This sparring contest was the only side event of the evening. An attempt was made to get two local young men to spar but one objected on the grounds "that he was not a hobo," and the wrestlers proceeded to get ready for their contest.
It was decided to have two referees, one to be selected by each man. Andres selected Lou Lehman and Cannon, Charles Reghal. Con DeVliegar was master of proceedings and Robt. Radeke timekeeper.
The first bout was catch-as-catch can style and was won by Cannon in eight minutes and a half. Andres was brought squarely to the floor by the quick work of Cannon, who let no opportunity pass him and was himself as slippery as an eel. Cannon also managed to give Billy a dizzy shake and had the knack of obtaining a strong underhold.
The time between the bouts was twenty minutes. The Grand Haven men felt dishearted that their favorite had been thrown, but consoled themselves on the fact that the next bout was to be in the Graeco-Roman style, which was known to be Andres' favorite style.
In Greaco-Roman a hold below the belt is not allowed and the stronger man has the greater advantage. It was soon evident that Andres had his man defeated and in seven minutes he floored him amid great cheers. Cannon appeared exhausted after his defeat.
A wrestling match is about as exciting an athletic event as there is, and by this time the fever of excitement seemed to be imbued in every one of the audience. When the last bout began chairs were used to stand on and every one was at fever heat.
A quarter was tossed to see what style the last bout should be. Andres won and selected Graeco-Roman. Andres acted on the defensive and Cannon made all the opening grapples. The Grand Haven man's arms are long and muscular, which gave him a great advantage and he could push Cannon from him at will. After much grappling, both at last secured a hold. Andres secured a Nelson and for twenty minutes they struggled on the floor in an effort to bring the other's shoulders down. Both released themselves from perilous predicaments by cat like moves. At length Andres got him on his back, and point by point forced his shoulders to the floor. At the end of eighteen minutes Billy was declared the winner and the pandemonium that reigned in the hall was indescribable.
Several Grand Haven men who did not have faith in Billy, and had put their money on Cannon were disconsolate. With but few exceptions everybody was satisfied, and the big wrestling match is the absorbing topic on street corners today.
Several times during the contest Cannon seemed to try to deliberately foul Andres by punching him and attempting to step on his hip. Cries of foul from the audience showed Cannon that he was detected and the referee made him stop such practice.
Cannon stated to the TRIBUNE this morning that he would challenge Wm. L. Andres or any 170 pound man in the state to a match for best three out of five falls in catch can style, and will bet $500 to $1000 that he can beat his opponent. Mr. Cannon stated that anyone wishing to take him up could call at Chas. Reghals.
Death of Mrs. VanderNoot.
Mrs. C. VanderNoot died at her home on Washington St. at four o'clock this morning. Her death was due to cancer which has afflicted her for some time. Mrs. VanderNoot was 64 years and two months old. She was married in the Netherlands 42 years ago and immigrated to America 28 years ago. Mr. and Mrs. VanderNoot have resided in Grand Haven all that time. Mrs. VanderNoot leaves to mourn her departure a husband and two daughters, Mrs. Kousemaker and Mrs. P. VerBeckmoes of this city, and many friends and relatives. A son, Martin VanderNoot was killed in this city some years ago. Mrs. VanderNoot was held in high esteem by all who were acquainted with her. The funeral will occur at 2 o'clock Monday afternoon from the residence.
In connection with the wrestling match last night, another match had been arranged between Lou VanDrezer and D. F. Pagelson, but when same was to take place VanDrezer, for reasons better known to himself, backed water.
The Grand Rapids Democrat says that Congressman Richardson will work hard for liberal appropriations for Holland and Grand Haven harbors.
One coasting party that started from the top of the plank road this morning went as far as Columbus St.
In the early days of America the present Lake Michigan was known as Lac des Illinois.
Christmas only two weeks away.
The fish tugs are inside today.
It is not many years back that Grand Haven's principal streets were paved with sawdust.
The steamer Fountain City, sold recently at marshal's sale, will be run in the salt trade between Manistee and Chicago.
Wm. S. Hatch is arranging to build a boat that will be something of a novelty. As it a rule it will be a sailing craft, but will have sufficient steam power to enable it to dispense with the services of a tug in making landings at certain points on Lake Michigan.—Bellaire Breeze.
What to do with the sawdust and slabs has always been a vexing question at the sawmills, but it is so no longer at the Menominee mills. Sawdust is in demand for packing, and now a company has been formed for cutting the slabs into short lengths, after which they are shipped to Chicago for kindling.
We did not have much colder weather all last winter than we have had this fall—for it is fall yet.
Walking is rather dangerous. The ice on the sidewalks is covered with snow and treacherous places are concealed.
Local young men are talking of organizing an athletic club and have their gymnasium in the third floor of the Pfaff building.
Nine out of the 24 jurors in the next term of Kent circuits are of Holland birth. The same is the case in this county.
The Wisconsin arrived from Milwaukee yesterday afternoon and the Roanoke this morning. Both had good cargoes. The freight business is picking up.
The TRIBUNE has been informed that "X" was mistaken in the statement he made about Lou VanDrezer on Saturday's issue.
Attorney General Ellis says that sheriffs and jailers must not open prisoner's mail without their consent. This is an answer to a question raised by the State board of Corrections and Charities. But sheriffs may either retain such letters without answering or open them and read them at the request of the prisoners. Thus the privacy of the mail is not denied.
Death of Mrs. John VanDrunen.
Death has again taken one of our oldest citizens in the person of Mrs. John VanDrunen of Pennoyer Ave., who died Sunday at 11 a. m. aged 88 years, 9 months and 16 days, after an illness of about ten days with la grippe.
She leaves to mourn her loss, her husband, a son Peter, and one daughter, Mrs. Art VanHall of Fulton St.
Mrs. VanDrunen has resided in Grand Haven for the past 44 years. She has always led a Christian life and was much respected by all who knew her. Funeral services will be held at the Christian Reformed church Wednesday afternoon at 2:30 o'clock.
Her husband, John VanDrunen, and son Peter are lying dangerously ill at their home.
It is just as well that president Cleveland held off his Hawaiian message until next week, because Saturday the Woman's Club of Grand Haven assembled and solemnly grappled with the problem: "Shall We Annex Hawaii?" The Grand Haven ladies are willing to lay aside their work at any time to counsel the President, and he might go a long way farther and not get as sensible advice, too.—G. R. Dem.
Robert Lamoreux, for many years connected with the furnace at Fruitport, is now in charge of a furnace at Rock Run, Alabama.
Mrs. Wm. Young of Fulton St., broke her left arm by falling on a slippery walk on Washington St., yesterday. The arm was set by Dr. VanderVeen.
Grand Haven is all puffed up with pride because traveling men say that no other town of its size in the country has so fine a court house as the new edifice says the G. R. Democrat.
This is the season for secret society elections.
It looks as though Ottawa county had another candidate for the penitentiary in the person of the Coopersville clover seed thief.
Snow slides have carried away about 300 feet of the roof of the Manufacturers building at the Fair, and the interior is filled with a mass of snow and slush.
The life saving crew which assisted in the release of the schooner Hunter Savidge near Sand Beach suffered a severe bruising by being tossed about in a heavy sea on the return.
The Hudson Business College of Hudson, Mich., wish to establish a business college in some city in this state and would like to know how much Grand Haven would give for that purpose. An institution of the kind they claim would soon have from one to three hundred students.
In reference to remark made in paper concerning VanDrezer and Pagelson, part who placed same in printer's hand did not know of any arrangements made and remark is revoked. D. F. P.
A large number of German families are settling on land in Grand Haven and Robinson townships. A family from Galicia is also settled there.
On a Bender.
Wm. Bell, Ed. Reilly and Fred Lockhart, three young men well-known in this city, will eat their Christmas and New Year's dinners in cells in the county jail, unless the fines imposed on them by Judge Pagelson this morning are paid, which is not very likely.
Yesterday the three young men mentioned above were seen in Wm. Bell's home in the rooms above K. Valom's tailor shop. From the noises heard on the street it was evident that the inmates were having a high old time. Loud talking and swearing predominated. The house has been looked upon with suspicion for some time as not being over respectable.
In the evening Mrs. Wm. Bell and a young lady named Allison called at VanWormer's restaurant and asked for supper. They were served and were eating, when Lockhart and Reilly came into the restaurant and began slapping the women. Bell followed in and is said to have struck his wife. Mr. VanWormer interfered when he saw what was going on. One of the young toughs attempted to extinguish the lights. Just as Bell was about to strike one of the women, Mr. VanWormer stepped in between. These seemed to enrage Lockhart and Reilly and they both struck Mr. VanWormer. Will VanWormer came to his father's assistance and struck Reilly with a bottle.
Reilly, Lockhart and Bell hung around the restaurant for awhile, and Reilly deliberately knocked a freight handler down in front of Pfaff's. The man was going along and attending to his own business. He was not hurt very badly and probably considered himself lucky to get away from the trio so easily. The three then walked down towards Boyd's saloon. Mr. VanWormer telephoned for Sheriff Keppel and the latter arrested them in front of Boyd's. The sheriff took Bell and told the others to follow. All went well until Pfaff's store was reached, when Reilly and Lockhart deliberately bolted up the stairs into Bell's rooms. The sheriff handed Bell over to Ald. Nyland, and went up after the escaped birds. He did not have much trouble in getting them and when he did, he took the precaution to handcuff them.
When the Unitarian church was reached, Reilly and Lockhart insisted that the law required that they be taken to jail in a patrol wagon. A few smart clips with the sheriff's club soon freed them of this delusion and they marched on.
Ald. Nyland and Dan Pagelson had been giving the sheriff a little assistance and Bell promised to get even with them. In the jail office the young terror deliberately struck Pagelson a blow in the cheek, Sheriff Keppel saw it and two bad looking optics are proof of the punishment Bell got at the sheriff's hands.
Of the three not one had a cent and it is said that yesterday they were pawning their chairs for drinks.
They were brought before Justice Pagelson this morning. Reilly and Lockhart were sentenced to pay a fine of $10 and costs or 30 days in jail and Bell $15 and costs or 40 days in jail. All went to jail in default of fine.
It is to be hoped that this will prove a lesson to them. Some of them have respectable folks who probably take their disgrace more to heart than they.
Skating is good on the river at Grand Rapids.
An effort is being made to have a U. S. Supreme Court building built in Washington.
Many of the Sunday schools of the city are preparing for Christmas entertainments.
When Sheriff Kempel arrests a gang of toughs he does not mince matters and does not waste time in placing them under surveillance.
Despite the fact that next week is the last week before Christmas the holiday rush has not begun to any great extent. It may start in a jump next week.
Teams are crossing the river on the ice at Lamont.
Mink Kieft had a horse fall on him on Fulton St. this morning but he escaped with a few bruises.
Already the accidents common to boys who will persist in skating on unsafe ice are being chronicled in the newspapers.
Will Bell one of the trio of young men sent to jail yesterday by Justice Pagelson was released today, his fine having been paid.
That part of Second St. near Washington known as the "wood market" is the liveliest part of the town this season.
Gus Hubert's workshop is one of the most interesting of the city, as Mr. Hubert is always working on some new invention.
The sidewalk in front of that vacant lot next to the Episcopal church is in a most dangerous condition from banked up snow and ice. The authorities should see that it is cleaned off.
The wrecking tug Thompson of Port Huron arrived here this morning to remain this winter in keeping the harbor clear of ice for the Roanoke and Wisconsin. The Thompson is a more powerful tug than the Merick.
In yesterday's Grand Rapids Democrat appeared an article reflecting on the wrestling matches between Tom Cannon and Andres. It purported to be remarks of a man who saw the match and stated that it was a fake match. In today's Democrat appears the following: In answer to the article in regard to the Cannon Andres wrestling match in yesterday's Democrat, Mr. Andres says he went into the match conscientiously, knowing of no put-up job whatsoever and many friends came to him inquiring how to bet and his answer was that he did not know how it would turn out, but that he would win if he could and that they could bet to suit themselves. Mr. Andres is a man whose reputation for strict integrity is unquestioned here and his friends feel that yesterday's article does him great injustice.
Grand Haven and Milwaukee are two of the very few lake ports at which navigation is open al winter. This leads the Evening Wisconsin to say: "Ports on the lakes that have winter traffic are entitled to the continuous service of a life saving crew, the same as ports on tidewater. The supreme court by recent decision made the lakes the high seas, and it is another reason why lake stations should no longer be considered inland ports."
Louis C. F. Hintz of Grand Rapids, factory inspector for Western Michigan, was in the city on a tour of inspection today. It is his business to see that no children under a certain age are employed in manufacturing institutions, to see that all machinery is well guarded and set up in a such a way that it is not dangerous to employees. Also to see that Proper handrails are provide on the stairways of manufacturing establishments and that all such establishments , three stories or more in height, be provided with fire escapes. All emery wheels and grinding stones in factories to be provided with dust screens. These are only a few of the many duties of the inspector.
C. N. Addison has a handsome Christmas window display.
Ice cutting will be in order if this cold snap lasts.
The House has passed the bill to admit Utah to statehood.
Ice boats are coming out on Muskegon Lake.
Skating is said to be good at the pier.
Ed. Reilly paid his fine and costs yesterday and was released from jail. Lockhart will undoubtedly have to serve his time out in quay.
Freight is coming over from Milwaukee in plenty and the only question now is can enough freight cars be kept here to transport it eastward.
Will VanWormer and John Wilson are managing the roller skating rink in the Gray Block this winter and running it on a respectable plan, allowing no loafers or ruffians in the rink.
Twenty-five years ago last Friday, the eight of December, St. John's German Lutheran church of this city was organized. In the early days of the church, Rev. Duip of Grand Rapids was pastor.
D. Wright, the candy man, will move back to Grand Haven from Bay City, the first of next year to take charge of his confectionary establishment, which Mr. Ingraham has had charge of for some months.
The Olive-Grand Haven township fence war seems to have been settled as all is peace in that community.
The amount paid into the county treasury by the saloon keepers is not inconsiderable.
The interior of the new court house is in the hands of the plasterers.
There is some ice on the lake on this shore, but not enough at all, to hinder navigation.
The roof of the court house tower is now almost finished.
T. W. Kirby is already cutting ice at the pier.
Report has it that the town clock has been seven or eight minutes fast this week.
Enos Stone and D. Vyn are benefiting everybody by hauling and placing snow on the Spring Lake bridge, which has hitherto been bare, making it a great hindrance to wood teams.
The brutal misuse of a little child ten years old by its stepmother which happened a few days ago, is the talk of the town. The family lived in the 4th ward near the Corn Planters Works. It seems this little girl broke a lamp chimney, when the inhuman mother took a wooden slipper she was wearing and struck the child repeatedly over the head and body, making bruises that will take some time to obliterate. That wasn't enough for this inhumane woman. It was the coldest day we have had this season, and she made the child go out in the bitter cold and told her she must not come back until she had picked up rags enough to buy a new chimney. She was noticed by a gentleman passing, who inquired of her and found out what she was crying about and took her into a house near by and had her attended to. It seems the father of this child lives in mortal fear of this woman and allows her to misuse the children without a word from him. It would seem that this is a case that the authorities ought to look into.
Local fishermen are not now setting nets for white fish, as it is too hazardous. Nets have to be set close to shore for that species of the finny tribe and the rough seas of the lake makes it too risky at this season.
Many of the celery dealers of this vicinity complain of the dishonesty of commission merchants. It is a fact that many of them are "beat" houses. They make every excuse and kick imaginable in order to beat the grower out of a few dollars. Some of them complain that the celery is frozen or parched; in fact anything to count money in their pockets. The business life of the celery grower is not an easy one.
The tug Miller made a catch of 2,200 pounds of fish yesterday. All the tugs are reporting good hauls.
This has been about as dark and disagreeable a day as we have had this year.
A "citizen" wants to know if an officer is kept upon the streets at meal hours. The streets should be patrolled at all times.
How many blocks of good walk would a $5,000 judgment against the city, if otherwise applied, put down? This is a pointer for the aldermen.
There are three Germans in the city council and three of Holland decent.
And yet the Grand Haven water works suit has not been decided.
The straits are now practically closed.
A company has been organized at Grand Rapids to prospect for oil and gas near that city.
The inhumane woman of this city is being well advertised by the state papers.
The new engine at the electric plant is on its foundation.
Two tramps slightly under the influence of alcohol stole each a pair of rubbers from the Excelsior Shoe Store on Third St. yesterday noon. They were detected by Jules Hanson who informed Mr. Juistema. The sheriff was notified and the tramps were arrested in Kooimen's saloon while putting the rubbers on. Before Justice Pagelson this morning they gave their names as John Craig and John Miller. Both were sent to jail for twelve days.
A stone pile is to be established at South Bend for drunks to work their fines out on. If some Grand Haven man could devise a plan whereby drunks and tramps might work out their fines here, it would probably be money in the city's pocket.
Look at the log cabin in P. VerDuin's store window. It is the kind commonly seen in Grand Haven in 1834.
The chicken thieves are still operating about the city. Sixteen chickens were stolen from the coops of James DeSpelder in the fourth ward last night. The thieves broke the lock in gaining entrance.
Supt. Kimball of the life saving service urges that all lake vessels should carry guns for throwing life lines.
The law which forbids the sale of tobacco in any form to persons under sixteen years of age is violated with a frequency and flagrancy which demands the earnest consideration of all the parents who have young boys growing up to manhood. It is no trick to see on the streets, youngsters wearing knee breeches puffing away on a cigarette.—EX.
Grand Haven is situated in latitude 48° 05' and longitude 86° 18'.
Years ago water spouts were often reported on Lake Michigan.
The river is quite high now and with a swift current.
The river is several feet above the normal at Grand Rapids and river front cellars are under water.
Sergeant Frank F. Wood was the first person to have charge of the weather bureau in this city.
A son of Len Fisher was run over by sleigh on Washington St. this noon, but luckily was not badly hurt.
The river has assumed the color of the yellow and muddy Missouri, caused by the action of wind and sand.
The sweet chimes of the Christmas carols may be heard now evenings from the churches which are to have Christmas entertainments.
Grand Haven has a dozen churches.
The store windows are resplendent with holiday goods.
The first genuine blizzard of the season.
A number have inquired why it is that the city is paying for having sand conveyed to the court house square. Recorder Angel stated this morning that it was because the sand was being taken from Clinton St., a public thoroughfare that was being badly damaged by the sand blowing from the hills.
The public schools will only have about a week Christmas vacation this year. The schools close on Friday noon of this week and will start again January second.
A Grand Haven mother, who is a cruel and solitary exception to the general rule in that town, got mad at her little girl for breaking a lamp chimney. First she beat the poor child over the head with a wooden slipper, then turned her into the street, telling her not to come back until she had picked up and sold enough rags to buy a new chimney.—Detroit News.
Winter begins Thursday. The fact is, winter invaded autumn over 30 days ago.
The steamer Ironsides which foundered off this port twenty years ago, also sank the tug Merchant in a collision, the year previous to going down.
The Ladies Marine Band, of Grand Haven, is to start out on a tour. Why not send them to Honolulu that they may, with bright smiles and bright melodies, coax our marines on board their vessels homeward bound.—Muskegon Chronicle. There must be a mistake some where.
Snow Ordinances.
A majority of the people of this city keep the snow shoveled off the sidewalks and would whether there was an ordinance requiring it or not. A few other people do not keep their sidewalks clean. The comfort and safety of our citizens require that the sidewalks should be kept clean of snow, and we think our city fathers should pass an ordinance which should provide that if any person does not keep his walks clean, if complaint is made to the mayor or street commissioner, the city will cause the walks to be cleaned, and charge the expense against the property so that the owner will have to pay the same at the time he pays his taxes. Such a law, properly enforced, would be a benefit to our city.
Of what avail is it for nine persons to clean off their walks if the tenth neglects to do so? This trouble can, however, be easily be done away with; give us an ordinance and then enter a complaint, have the city do the work and charge it to the property a few times and dollars to doughnuts, the walks will be clean after every snow. Yours, AN OLD MAN.
News was received here from Chicago last week of the death of Mrs. Williams, wife of the well-known colored man, for many years a resident of Grand Haven.
A Muskegon boy who visited an uncle in Ferrysburg last week killed 50 sparrows and brought them to the Muskegon county clerk for the bounty. The boy told the clerk where he had shot them and that official told him the birds were of the Grand Haven variety and he would have to collect his bounty of our county clerk.
John Higgins, a sailor claiming Port Huron as his home, was sent to jail for a week for drunkenness by Judge Pagelson this morning.
Grand Haven has the largest fleet of fish tugs for a port of its size on the great lakes. It also has two of the largest fish tugs on fresh water, the Elk and the Deer, owned by Capt. T. W. Kirby.—Detroit Journal.
A break in the lines caused the electric lights to go out last night. Luckily it was not very dark.
The Y. M. B. C. W. will become a full fledged Y. M. C. A. early in January.
Santa Clause is reported to be very hard up this year and the little boys and girls should forgive all short comings in Christmas gifts.
A refrigerator fell on Ed. Reenders at the Corn Planter factory yesterday badly jamming his foot. He was brought home in a carriage and is feeling a great deal better today.
Columbian half dollars are slowly becoming a portion of the silver circulation. Of course they are eagerly received, and the counterfeiters have taken prompt advantage of the situation. The bogus coins are neatly made, have an excellent polish and are smooth and greasy to the touch.
ROOSIEN'S STORE BURGLARIZED.
—
John Verhoeks and Henry Sickman Arrested.
Roosien's grocery store at the corner of Fulton and Seventh streets was burglarized early this morning and the supposed burglars are now behind bars in the county jail. The suspects are John Verhoeks and Henry Sickman, both well-known in Grand Haven.
The tale of the burglary is as follows: Early this morning, Len Kammeraad, who resides in the rooms above Roosien's store, heard a noise. He suspected something wrong and looked out of his window. He was not mistaken, for very soon the noise of falling glass reached his ear from the store below. Burglars were at work at the front door of the store, which faces Fulton St. After the noise, nothing was heard from below for about fifteen minutes, the thieves evidently waiting to see if anybody had heard the noise they had created. They again went to work and the noise of falling glass was again heard by Mr. Kammeraad and shortly after he heard somebody go in the store. Kammeraad was now on his guard. He knew it would be foolhardy to run down the stairs while the burglars were in the store and would be attended by no little personal risk. Instead he did the wisest thing possible and that was to wait until the burglars left the store. He kept watch of the street and after a little heard the thieves leaving. It was not dark this morning and Mr. Kammeraad could see their forms very plainly as they left the building. There were two of them and they seemed to have the stolen booty wrapped up in a bag or blanket. Mr. Kammeraad watched them as they went north up Seventh street towards the Corn Planter Factory. They were going at a dog trot.
The thieves were not out of the building many minutes before Kammeraad hastened across the street to Henry VandenBerg's home. Mr. VandenBerg was awakened and appraised of what had taken place, and he lit his lantern and started out with Kammeraad. It so happened that Night Watchman Peter Cook was coming down Fulton St. on his beat at the time and became one of the searching party. The tracks were plainly traced north from the store, on Seventh St. At Boyink's alley the tracks turned off to the left and led through the back yard straight to Henry Sickman's house. The house is on Jackson St. next to Peterson's grocery. It was decided that one of the party should inform the sheriff, and the others guard the house to see that no one left it. VandenBerg started on a run to the jail. He awakened the sheriff, and they hastened to the house which is five or six blocks away. The sheriff took careful survey of the premise and went to the door. It was two o'clock in the morning. The sheriff rapped and demanded admittance. The voice of Sickman was heard asking him to wait several minutes, until he could get his clothes on. As the TRIBUNE stated some days ago, sheriff Keppel does not mince matters, and when those few minutes were up, and the door not yet opened, the officer kicked it open in an unceremonious manner.
Just before the door was opened VandenBerg caught a whiff of what he thought was burning leather and rubber. A roaring fire was noticed in the stove when the officers entered. Sickman was standing near thee stove and was dressed, and to all appearances had been for some time. The smell directed the officers to the stove. The stove door was opened and the fuel which consisted of shoes and rubbers were pulled out and water thrown into the fire. It looked strange and Sickman was asked why he had such an expensive fire. He stated that he was burning up some old shoes.
Verhoeks was discovered sitting on a bed. Both he and Sickman were placed under arrest and night watchman Cook escorted them to jail. Sheiriff Keppel and Mr. VandenBerg then searched the house. It was evident that all haste had been made to burn the shoes, &c. in the stove. A hanging lamp had been thrown in the stove, that it's oil might hasten the blaze. It is surmised that this was done when the supposed burglars had found out that they were detected. In the garret the floor was said to have been literally covered with chicken feathers.
The Roossien's do not know their exact loss. Several pairs of shoes, rubbers, lumbermen's socks and also a quantity of tobacco is missing. The cash drawers were not touched.
Admittance was gained to the store by prying open the front door. The jar caused the breaking of one of the glasses in the door, frightening the thieves, but they picked up courage after several minutes and returned, little knowing that they were heard.
Much credit is due Officer Cook and VandenBerg, the sheriff and also Mr. Kammeraad for his watchfulness. They did not stop at examining the store but followed up the supposed thieves tracks, and the result is, the two men have a very serious charge to answer.
The burglary and arrest has occasioned a great deal of excitement and it is hoped that future developments will decide who the thieves are, and they should be vigorously prosecuted. A man who will enter a building for the purpose of burglary has murder in his heart, and society is better rid of a snob.
Sickman and Verhoeks were brought before Judge Pagelson this afternoon. They waived examination and were bound over to circuit court, under the heavy bail of $1000 each, which they were unable to furnish and they will remain in jail. The court room was packed with people when they were brought up.
Capt. Pallegrom received the notice below in regard to the sufferers in the upper peninsula, and the boys of Co. F will donate the use of the Opera House to any society who wants to go into the worth cause of raising money either by giving a dance or other entertainment as they see fit. Capt. Pellegrom has appointed a committee to confer with any society and will give all the assistance in their power. Lansing, Dec., 15th, 93.
SIR—I am directed by the Com.-in-Chief, Gov. T. Rich, to call the attention of the Michigan National Guard to the pressing needs of the thousands in Upper Peninsula, who. In consequence of the closing down of the mines, are without employment, and with their families are suffering for the lack of food and clothing. While our people are responding nobly all over the state to these demands upon their generosity, it is believed that concerted action on the part of the officers and men comprising our military force would result in raising such an amount of supplies as would not only go a great way towards meeting present wants, but would afford an opportunity for charitable efforts of which they would gladly avail themselves, and which could not fail to be appreciated by the beneficiaries thereof.
It is suggested that commanding officers appoint committee, to act in conjunction with local committees, where such are already formed, or independently if deemed more advantageous, and that the good work be at once begun and carried on with that zeal and energy which is characteristic of the men who have by the same display of activity now required ought our military system up to its present high standing of excellence.
That the Com.-in-Chief may be informed commanding officers will please report actions taken in view of the above recommendations. A tabulated and detailed statement will be published at the proper time for the information of all concerned.
C. L, Eaton. Adjt. Gen.
Grand Haven Harness Makers.
[This poem by Nelson Holcome can be viewed in its entirety on the Tribune microfilm at Loutit Library.]
Marshal Klaver escorted a drunk to jail this afternoon.
The city should devise a way of keeping record of the births and deaths within the limits.
The assault and battery case of A. Mastenbroek vs Ellman was settled out of court.
P. Danhof is serving a twenty day's term for drunkenness in the county jail.
The two Jesse James' of Peach Plains engaged in a wrestling match on Washington Ave. the other day, a-la Cannon—Andres.
Taxes, Christmas and hard times are all promiscuously mixed this year.
Paul Mastenbroek of Robinson had a bad runaway here Sunday. His sleigh was demolished and the horses were not stopped until they had run as far as Peach Plains.
The TRIBUNE is informed from a reliable source that the big sand hill across the river which 30 years ago was 190 feet high is only two feet lower than it was then.
That tramps are not all illiterate is evident from the fact that many of the travelers strike the TRIBUNE office in search of exchanges.
It is reported that a certain meat peddler who is selling meat in this city, has a scale which runs in his favor, quite a deal. The other day, said meat man sold a lamb to parties here, claiming it weighed 31 pounds, an was paid for that amount. The lamb was weighed on a grocer's scale afterward and tipped the beam at 21¼ pounds.
The TRIBUNE was taken to task by a citizen today who remarked that this paper should not only keep after the citizens, urging them to keep their side walks clean but should call the city government's attention to the public crosswalks as well. It is true that many of the crosswalks are dangerous to pedestrians and very slippery, and while many of the sidewalks are cleaned of ice and snow, not one of the crosswalks has been. Many of the crosswalks right on the principal streets are dangerous and the proper official should see to it that they are freed of ice.
D. and F. E. Skeels and John Q. Cressy, engineers for the Grand River Railroad company, have completed the survey from Battle Creek to Grand Rapids via Gun Lake, and report a very direct line with low grades. They report the country as being the finest farm land in Michigan, supporting as they do the prosperous villages named above. The railroad company is also laying out a spur to Wall Lake, a distance of one-half mile, also a spur to Gull Lake. With this accomplished the Grand River Railroad will run through as fine country and along side of the finest chain of inland lakes in the state.
The little steamer Odd Fellow which was built here last year has been plying Torch lake, and inland lake in the Grand Traverse region this season.
John Verhoeks and Henry Sickman are still in jail , not yet having furnished bail. The Roosiens' it is said can identify the goods found in Sickman's house as the property taken from their store.
P. VandenBorch, aged 72 and Sietake VandenBerg aged 66 took out a marriage license through County clerk Turner this week. Both are from Holland town.
A balloon 65 feet in diameter, inflated with 108,000 feet of hydrogen gas was cut loose at St. Louis bearing in its basket scientific apparatus prepared by the United States Weather forecaster, including an automatic registering thermometer and an android barometer for the purpose of determining the distance traveled, altitude reached, conditions of temperature, etc., by means of self-registered observations made upon a roll of paper.
President Briggs in his address to the Grand Rapids Board of Trade last night said: The advantages derived from ample railway facilities are well known, and every additional line entering a city adds to its importance as a railroad center. Support should be extended to the project now being agitated for the building of a road from this city to Battle Creek. Such a line would afford direct communications with Toledo and the coal fields of Ohio, and, making connections with Baltimore & Ohio system, would prove of great value in a general way and of special service to many of our important industries. There are most excellent reasons for stating that this line together with the one projected between this city and Grand Haven, will be built in the very near future.
Kalamazoo river is troubled with unlawful fishermen.
A church for colored Catholics is being erected in Chicago.
A bill has been introduced to admit Oklahoma as a state. It has a population of 250,000.
A Muskegon man has invented a shoe fastener that will lace a man's shoes without exertion on his part.
T. Stewart White and Thos. Hefferan are suing the Valley City Trans. Co. for back rent.
An Allegan country boy made the journey from Michigan to Florida by bicycle.
A small colony of Indians are still living at Bass River, and gain their livelihood by the making of baskets and farming.
Over 500 houses have been erected in Holland during the past five years, representing an increase in population of 2.500, says the Detroit News.
The contract for ceiling the Gymnasium of Akeley Institute has been let to Glerum & Co., of Grand Haven. The work is to be finished by January 8, 1894.
Twenty-nine years ago yesterday President Lincoln issued his last call for 300,000 more." The same date four years before, South Carolina unanimously adopted the ordinance of secession taking the lead in the movement to separate the Union.
At G. VandenBosch & Bro., something new in a self lighting lamp burner. No matches required. Buy one.
The best assortment of fine merchant pipes in Grand Haven, at Chas. Singleman's, and at prices very reasonable. Just the thing for a Christmas gift for your husband or brother.
Clean the crosswalks.
Winter began at sixteen minutes after nine this morning.
This is such a day as one would expect in early spring or at the break of winter.
G. W. McBride has sent a barrel of flour to the Upper Peninsula destitute minors.
The fishermen were unable to find some of their nets yesterday on account of the rough seas.
The Y. M. B. C. W. will go out of existence the 8th of January and be organized into a Y. M. C. A.
The Bee Hive is headquarters for candy, nuts, oranges, figs, dates, &c, at low prices for Christmas.
Many of the Akeley girls left for their homes today to spend the Christmas holidays,
If in doubt as to what would be a suitable Christmas present for your husband, brother or gentleman relative, call at Chas. Singleman's and purchase a box of his popular cigars or a fine meerschaum pipe.
At G. VandenBosch & Bro., something new for the boys. A bob made of two sleds for only $1.00. Come and see.
Miss Maggie VandenBosch, daughter of T. VandenBosch the merchant, was severely scalded last Monday.
Mayor A. J. Ward of Flint, Mich., arrived in the city this morning en route to Chicago to purchase the hardware for the Grand Haven court house. He was accompanied to the sandy city by his brother, B. A. Ward and wife and W. H. Davis. The purchase of the hardware is being made through Mr. Davis.—Michigan City News.
Grand Haven has 12 churches or one to every 500 of the city's population. The oldest church edifice in the city is the Presbyterian which was built in the fifties. The Catholic church was built in 1867, St. John's Episcopal in 1868, first Christian Reformed in 1872, Congregational in 1878, German Lutheran in 1868, Second Christian Reformed in 1881. The German Evangelical church was built about ten years ago. The First Reformed, Unitarian and Methodist denominations all lost church buildings in the big fire and were all rebuilt, most of them the next year. The former Second Reformed church was burned and the present edifice built on its ruins in 1890. In that year four churches were built.
The body of Phelps, the stranger who committed suicide in a barn near Hopkins two weeks ago, has been identified by the sheriff of Lenawee county, who took the remains there to the dead man's mother. He is the man who attempted to suicide in the jail here.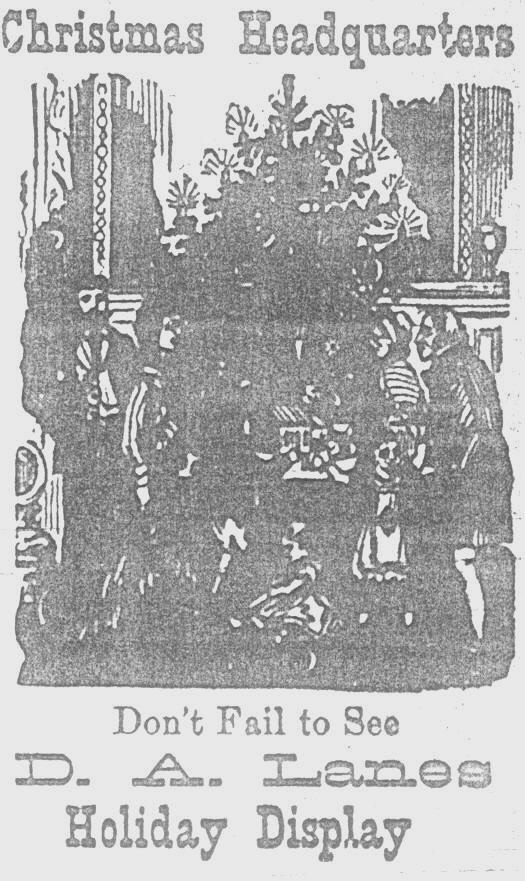 Mrs. D. Vyn celebrated her 60th birthday the 13th of the month, and yesterday was the 41st anniversary of the marriage of Mr. and Mrs. Vyn. They are among the oldest and most prosperous residents of Grand Haven, and the name of Vyn and Five Brothers have become by-words in the town.
The big libraries of Michigan according to the bureau of education are: Detroit public library, 108,720 volumes; University of Michigan library, Ann Arbor, 77,705; state library, Lansing, 55,000; Grand Rapids, 26,202; Olivet college library, 19,304; Kalamazoo library, 17,800; Hackley library, Muskegon, 16,194; Agricultural, Lansing, 13,557; Bay City library, 13,112.
Beginning next Monday the rooms of the Young Men's Band of Christian Workers will be open every day from two in the afternoon to ten at night, and young men are earnestly invited to visit the rooms. On Christmas Day the rooms will be open all day. For New Year's day a sort of open house is being arranged. The W. C. T. U. of the city will co-operate with the Y. M. B. C. W. and refreshments will be served free during the day. In the evening a free entertainment will be given. All in all it promises to be a red letter day for the organization. Games are now on the tables in the rooms, and together with the papers and magazines and afternoon can be spent there pleasantly.
Ed. Pennoyer left on a hunting expedition today.
The six new electric lights ordered by the council some time ago are being put up.
Christmas packages are not coming in or going out as numerous as in other years.
It looks very much as though we would have a green Christmas after all.
Twenty-two Akeley college girls landed at the Union depot yesterday on their various ways home from school for the holidays.—G. R. Democrat.
The public schools closed this noon for the Christmas vacation.
Railroad men report that the town clock to be six minutes slow. It is very important that the clock should be kept on time.
A citizen suggested today that the city should keep a sidewalk snow plow in operation this winter.
It is 39 years ago today that J. M. Albers, sr. arrived in this city coming direct from the Netherlands, after a voyage of 37 days on the ocean, and from New York to Kalamazoo of two weeks. The journey from Kalamazoo to Grand Haven alone took three days.
Two cowardly and disrespectful bums attempted to do up John Ball, the night watchman of the National Bank, early this morning. They felt confident of victory but John plowed into them and knocked them down as fast as they could get up. The bums were glad to get away, after seeing that one man could make them so unequal a contest.
The grocery stores will be open until noon Christmas day.
Geo. Duram attempted to drive down by sleigh from Montague yesterday. The roads were so poor that he was compelled to foot it it for many miles. His journey took from one to ten last night.
The Muskegon Y. M. C. A. is sadly crippled by lack of funds and $1000 will have to be raised by January first.
Nathan Klock was picked up last night and taken before Recorder Angel this morning for drunkenness. He was sent to the Keppel Reformatory.
A new plan for running street cars with gas, stored in tanks under the seats, is presented. A car can be charged for a run of fifteen miles. Several cars now run this way in London.
We sell goods cheaper than people can steal them, at the Bee Hive.
This has been the liveliest day for the past two weeks and the streets have been crowded with shoppers all day.
The Corner Grocery will be the busiest store in town on Christmas morning. A large Christmas tree in the store will be loaded with Christmas goods and old Santy himself is now on his way from Hudson Bay to distribute goods to the two hundred or more little children who have tickets entitling them to a present.
Twenty-five years ago this morning Grand Haven suffered its first serious conflagration. All the block on Washington street between First and Second streets was wiped out, including the rooms in which the Congregational and the Episcopal societies held their services. Of those who were members of St. John's society then, the following are the only persons now living in this city, Mrs. Squier, Mr. and Mrs. N. I. Beaudry, Isaac Sanford, Geo. Sanford and Mr. and Mrs. Wm. Harper.
This weather seems too fine for winter.
The TRIBUNE extends to its readers—A Merry Christmas to one and all. The paper will not be issued on that day.
The lake was so rough yesterday that the Augur was unable to find any of her nets.
DeGlopper & VanDoorne's saw mill near Rosy Mound is busily engaged in cutting ties for the C. & W. M. Ry.
This warm weather has brought out a number of bicyclists.
At a meeting of citizens, held at the parlor of Co. F last night, a committee of arrangements was appointed to prepare for an entertainment, and to solicit donations for the destitute of the Northern Peninsula.
[This article describing the various committees formed and projects can be seen on the Tribune microfilm at the Loutit Library.]
Henry Mastenbroek, Frank Brown and Walter Miller brought down a hog from Eastmanville yesterday that weighed 450 pounds.
The livery men hoped for a snowy Christmas.
There are 27,932 soldiers in the regular army.
The TRIBUNE apprised of three Christmas births in the city, all of whom were girls.
The Congregational Sunday school distributed goods to the worthy poor of the city yesterday.
Tom Cannon threw a six footer in a match at Ionia last week.
A. Step the Fulton St. feed man made several poor families happy yesterday by distributing flour.
Right across the lake in Wisconsin there is said to have been plenty of snow yesterday.
Two Christmas trees and an entertainment combined to make a jolly time at the M. E. church last evening.
The county is attending to the gypsy woman who gave birth to a child at the City hotel last Friday.
Each of the prisoners at the jail got a reminder of the day yesterday from the Young Men's Band.
Yesterday the ice was cleared out of the river and the stream was as clear as on a summer day. At the tannery where one could walk across a week ago no ice was to be seen.
What with a dance at the Gray block, a show at the Opera House and exercises at the First and Second M. E. and other churches, and the hundred and one private parties, Grand Haven people had plenty to entertain them last night.
Michigan is first in iron ore, lumber, furniture, salt, charcoal, iron, gypsum, farm products, fruit and peppermint.
The world is the better for a holiday day like Christmas, for besides the many happy reunions, it suggests and seems to imbue into Christian people that grand sentence "peace on earth good will to men."
Despite the dull times throughout the country about as many Christmas packages passed through the express office this year as last. All last week Wm. Andres was busy delivering and even on Sunday and Christmas.
The old but nevertheless beautiful story of the birth of the Christ Child was told in the churches and at the Christmas entertainments yesterday and Sunday. Nearly every church in the city was crowded to standing room only.
Enos Stone was presented with a fine horse by D. Cutler yesterday.
"Christmas was as quiet as a Sunday," said Marshal Klaver and not an arrest was made.
The new engine in the Electric Plant will probably be tried today for the first time. It is about 60 horse power.
H. Sprick has made a valuable addition to his stable by the purchase of a handsome stallion of Grand Rapids parties.
A Holland from Ironwood passed through here the other day. He was leaving northern Michigan on account of hard times, but nevertheless had $1500 saved up. If those northern miners were of the same extraction as many of Ottawa county's citizens we would hear very little of hard times up there.
Dwight Cutler, jr., and Miss Frances Cutler will leave for California in a few weeks to remain on the Pacific coast until next spring.
The public schools sent a box of goods to Ironwood last week.
The Corn Planter factory has just received two carloads of planter wheels.
Bail has not been furnished by John Verhoeks and Henry Sickman and they are still in jail.
Christmas Day, 1893, was one of the warmest Christmas days ever recorded by the Grand Haven weather bureau.
The tug Miller, owned by Ruster & VerDuin made the biggest haul of fish yesterday ever made by local tugs, bar the deep water tugs Elk and Deer. The catch amounted to upwards of 4000 pounds.
The court house building committee yesterday prepared applications to submit to the Board of Supervisors of the inside furnishings and other little incidentals for the new court house. The committee meets again next Monday afternoon at 3:30. the Board of supervisors meet on Tuesday.
It is thirty-four years since Blondin aroused the interest of small boys the world over by walking across Niagara Falls on a tight-rope. That was a generation ago, and it is not surprising to learn that he will soon be 70 years old. But his skill in aerial feats has not abated, and he is now amusing the patrons of London Crystal Palace.
The blast furnaces at Fruitport will probably start up again next spring.
One young man of this city is greatly concerned over a fake marriage story.
Young man, why not spend your evenings in the Young Men's Free reading room, instead of on the street corner. You will always find a nice warm room and all the popular papers and magazines. The rooms are not limited to the members of the Band, but all young men between the ages of 18 and 100 are cordially invited.
Grand Haven is booming. It has good accommodations in its jail for sixteen and there are twice that number confined there.—Muskegon News.
The party who took the muffler from the gentleman's pocket is known and the present locality of it is known. A word to the wise is sufficient.
The engine of the steamer Pentland, Wm. Loutitt's new boat, will be in position this week. It has been set up by the Frontier Iron Works of Detroit. The men who had the work in charge came here from the Pacific coast, where they had engaged on the new whale back passenger steamer Everett, being built by MacDougal and Rockafeller, thirty miles above Seattle. They will return here as soon as the Pentland's engine in place. The Everett is the first whale back built on the Pacific coast.
Relief Work.
[Numerous and lengthy articles regarding the work of various local committees for the relief of Upper Peninsula miner families are contained in issues of the Tribune for this period and can seen on microfilm at Loutit Library.]
The Hon. Thomas D. Gilbert relates his recollections of early Christmas as follows: "The first Christmas I spent in Michigan was in 1835 and I do not recall that the day was especially observed. I was then located at Grand Haven, surrounded by Indians, half-breeds and French, and if they knew that Christmas was much more than any other day they did not manifest it. I presume we had venison for our Christmas dinner and it is probable that none of us but would rather have had salt pork or a little beef.—G. R. Democrat.
Mrs. Henry Balgooyen died at her home on Elliott street this morning, at seven o'clock after a lingering illness of four months. Mrs. Balgooyen was born in the Netherlands, sixty-three years ago, and came to this country with a family of three sisters and one brother in 1847, and has resided in Grand Haven since that time. She was married Nov. 5, 1851, was a life long member of the First Reformed church and a woman whom to meet was to love, always devoted to her children and ready at all times to lend a helping hand to those in need. She leaves five children to mourn her loss, Wm. Balgooyen of Bay City, Mrs. Geo. Atwood, Albert, Ella and Anna, to whom the loss is especially heavy as it is less than a year ago that they laid their father at rest. Notice of funeral later.
Twenty-two Januarys.
The chief of the weather bureau directs the publication of the following data, compiled from the record of observations for the month of January, taken at this station for a period of twenty-two years.
[This article can be seen in its entirety on the Tribune microfilm at Loutit Library.]
The starving miners of the upper peninsula are as a rule a happy-go-lucky class of working men, who earn big wages but have very little to show for it from one week's end to another. Money seems to burn their pockets and the evenings they spend in the many places of amusement and in the saloons of the mining towns. Many of them earn from three to four dollars a day. They have good homes and well furnished houses, but the majority have very little thought for the morrow, and spend their money freely. The rainy day has struck them and they are unprepared. In some respects perhaps they are not deserving of charity, but the good people of the state of Michigan will not see their fellow men suffering and it is right that contributions are pouring from all over the state to the northern mines. The "hard times" of 1893 will be remembered by the destitute of the north for the remainder of their lives, and it may also be a warning lesson for them to be more frugal when the good old days return, which it is hoped will not be long.
New Years Day will undoubtedly be as green a holiday as was Christmas.
The Muskegon News says that Grand Haven jail has over 30 prisoners. The fact is there were never that many in the jail and there is only about a dozen confined their now.
Gerrit Ball, Louis J. Koster and Ed. Andres made the rounds of a number of business places yesterday and sold forty-five tickets for the Relief Ball to be given at the Opera House, New Year's Day. Nearly all whom the gentlemen called upon contributed and nearly all of them paid for their ticket immediately. The glass factory contributed $10 through the genial manager, Mr. R. K. Stallings. Ball & Co., agreed to furnish the oysters for the oyster supper, New Year's night, and John D. Duursema will furnish the crackers for supper. The three above mentioned gentlemen say the people are on the right side and all of them give freely for the cause.
The dynamos of the electric light plant were operated by the handsome new engine last night. The engine works all night without a stop.
The major general commanding the United States army has approved that part of the new tactics providing for the officers giving commands, under certain circumstances can whistle instead of by word of mouth.
Some valuable marble beds are located near Grand Haven, and two firms in the city employ a large force of men in shipping to the eastern market. One of the firms supplied a Chicago contractor with marble for use on the sides of one of the world's fair buildings, is an item that is going the rounds of the state papers.
The winter solstice is past, and in his apparent path, the sun now comes steadily toward us. The longest, dreariest days are left behind and again our world of nature moves on to its vernal equinox—to warmth and brightness and fullness of growth which spring and summer are to usher in. As yet the gloom of winter's night is not perceptibly lightened nor its weary hours shortened; but the sun fulfills his mission, and the lengthening, brightening days are at hand. It is the course of Nature.—EX.
Poultry seems to be very scarce.
The freight handlers will be reduced from 20 cents to 15 cents an hour next Monday.
J. Blish was slightly crushed and bruised about the body while coupling cars in the D., G. H. & M. yards Wednesday.
A gymnasium is to be opened on the second floor of the Gray Block. An athletic club composed of a large number of young men of this city has been organized and the following officers elected: President, Wm. L. R. A. Andres; Vice Pres., Edson Duram; Sec. and Treas., Dan I'agelson. Edson Duram and Wm. Andres will be athletic teachers.
All having accounts with me are requested to call at once and square them up as I wish to close my books by January 1st. I will be obliged to turn over for collection those who do not settle by that date.
G. GRINGHUIS.
There are three unhappy girl babies in Grand Haven whose whole lives will be embittered by the reflection that they will never receive a birthday present, even if they shall live to be as aged as the oldest Mason. All three were born Christmas Day. It was a mean advantage to take of a young person and more especially of a feminine young person.—G. R. Democrat.
A handsome flag will be thrown to the winds from the flag pole on the new Court House on New Year's morning for the first time.
A report has gained considerable circulation in this city and also in the state papers that the tower of the new court house was caving. The story was false in every particular. It was said at the time that the walls supporting the tower were badly cracked. Instead, it was only a slight crack in the mortar between the two intersecting walls supporting the tower. Mr. Ward, the contractor, says there was no danger in the least in the tower settling, but to satisfy the building committee and all concerned, strong iron pillars were put up to further support the tower. The canard manufacturer is said to have been a disgruntled working man who refuses to see anything good about the building.
The steamer Sampson arrived today from up the river loaded to her decks with hard wood. In fact this harbor is as clear as a whistle; no more sign of ice than there is on a sunny summer day. The remarkable thing about all this, is that the so called harbor of Muskegon, twelve miles north of us has been navigated by ice boats for over a month, and no chance of being thawed out until next May, or nearly seven months in the grasp of the ice king.
The New Court House.
Contractor Ward announces that the new court house will be completed and turned over to the building committee next March. This means that the building will be occupied by the county officers before the nation's next birthday. The foundation for the structure was laid for last summer and it will be completed long before most people anticipated.
When done it will be one of the finest county buildings in Michigan, and for its cost undoubtedly the finest.
In the basement are located four of the eight vaults in the building, the main lavatory, the boiler room and a number of extra rooms. The boilers which supply the heat for the building are of Johnson Bros. make. Two pounds of steam is all that is required to keep the various offices a healthy heat.
The first floor of the building is devoted to the office of the probate court, county treasurer, county clerk, and register of deeds, and four vaults. All of the vaults are the size 9 x 34 feet. The vault to the register of deeds office has a wing or annex 5 x 12 in size. The vaults like the entire building in fact, are well built and laid with a concrete floor. On the door of each vault is the name of the office to which it belongs. In the offices the floors will be of tile. It took 50,000 bricks to build each vault.
The windows in the building are of the best plate glass, clear as crystal and three-eights of an inch thick. The plastering is known as "carpet float" and admits of the nicest decorating Each of the offices are supplied with a mantel and lavatory and the clerk has a private stairs leading to the court room.
There is no nicer court room in all Michigan than the one on the second floor of our new county building. The room is 40x50 in size and 18 ft. high. It will be well lighted and ventilated and will be a great relief from the hot little court room in the old building. Two jury rooms are in the rear of the court room overlooking Franklin St. In close proximity to the court room are the judges private office, the library, Prosecuting attorney's room and a separate waiting room for both ladies and gentlemen.
The supervisors will also have a room of their own in the second story to deliberate over county affairs. Their room is 18 ft. wide and 46 long. A committee room is also attached.
The third floor or garret will be a convenient storage room. From the tower Grand Haven spreads like a panorama before the observer. One of the grand vies of the town, Lake Michigan and the surrounding country can be obtained from there. From the outside the building presents a fine appearance and its inside construction is as well done. The stone steps leading to the building from the Washington and Franklin Sts., sides are 18 feet wide, or about twice the width of the steps at Muskegon's much more costlier building. The inside stairs will be of oak. The dormitory and halls will be well lighted as skylights are to be placed above, on the center of the roof.
All in all, the building will be a credit to the county of Ottawa and the pride of the county seat.
Marshal Klaver arrested a drunk last night, the first this week.
C. Glerum hurt his knee quite badly while working in the college yesterday.
Chas. Hofman of this city has fallen heir to money in Germany by the death of his wealthy aunt.
Mr. M. Johnston has a cotton plant which has blossomed for three years and is a very healthy plant.
In accordance with the usual custom the TRIBUNE will not be issued New Year's Day.
"Old year evening" services will be celebrated in the First Reformed church tomorrow night, and there will be services Monday morning.
In the Netherlands the custom on New Year's Day among the people, especially those residents of the country towns is to spend the day visiting with each other and gathering about a bowl of whiskey and raisins. The custom is still in vogue among the Hollanders of this country, and New Year's Day and 'whiskey and raisins' have become symbolical.
Principal Local Events of the Columbian Year.
Grand Haven people will long remember the Columbian year of 1893 as marking an epoch in the history of the town. It was a year of prosperity for the city and undoubtedly the turning point for the better in its career. Many new residences have been built and nearly every home has made some improvements. Carpenters and masons found it the best year for business they had ever known. Several new vessels were turned out at the ship yard, including the steamer Pentland, one of the largest ever built here; and the factories have all done splendidly considering the great financial depression.
It was in 1893 that Ottawa county decided to build a new court house if Grand Haven would donate $15,000, besides its regular taxation for that purpose. The right public spirit was shown and that amount was voted last January with hardly a negative vote. Plans were accepted, the contract let, and the work started. During the summer the structure rose steadily and now the tower is pointed out to visitors with a pride that cannot be constrained. Long before next New Year's Day the building will be the headquarters of county officers.
Grand Haven's prosperity will continue in 1894 and when the building season again opens a number of new residences and business buildings will be started. Grand Haven's natural advantages may also be the means of bringing us new manufacturing institutions the coming year.
Following are the principal local events that have transpired in 1893:
JANUARY.
1. New county officers take charge.
2. Death of Mrs. Johannes Goldberg. Death of John Hall.
4. Board of Supervisors decide to submit the question of a new court house to
the people. Marriage of Robert McKay and Henrietta Donker.
5. Burning of the wrecking tug Wright. Henderson house in Peach Plains burned.
6. Terrible midwinter storm. Steamer Wisconsin and Lora arrive after battling
with the sea for hours.
8. Str. Roanoke slightly burned at Milwaukee.
9. S. Verhoek's meat market burns. Death of Chas. H. Angel.
10. Norman Sweeney pleads guilty of horse stealing. Death of Frank H. White.
12. Sweeney sent to Jackson for five years.
15. Residence of Henry Verhoeks' burned.
17. Tug Merick drops her rudder.
18. Wisconsin and Roanoke fast in ice off Muskegon. Residence of Abram
Nedervelt burned.
19. Woman's Club banquet.
20. M. E. B. A. ball.
21. Grand Haven votes to give $15,000 for a new court house. Rev. J. W. Reed
dies in Grand Rapids.
22. Death of Henry Balgooyen.
23. Robbery and attempted arson in Spring Lake.
25. Roanoke leaves for Milwaukee with the Merick.
FEBRUARY.
3. Str. Roanoke runs on the beach near the south pier and in a precarious
situation.
5. Str. Roanoke lightered and released. Hundreds of men worked on her all day.
6. Owen C. Pearl examined on charge of incest.
8. Tug Crosby here unable to get into Muskegon on account of ice.
9. C. & W. M. trains snow bound.
11. G. H. Ship building Co. contract to build a fish tug for Marquette parties.
13. Rep. county convention. Delegates to state and judicial conventions elected.
Y. M. S. C. Ball.
16. Wm. Klaver dies in Ionia.
17. Mrs. L. Tietz suffers severe injuries by a fall.
20. German Workingman's society elect officers and have a social time.
21. Democratic county convention.
23. Str. Ionia sold by Wm. Loutit.
27. Dist. Y. M. C. A. convention held in this city.
28. Death of Peter Hollastelle.
MARCH.
1. Marriage of Cornelius VanderNoot and Nellie VanderPloeg.
2. Teachers' examination. Death of Mrs. D. F. Hunton.
3. Court house bonds all sold.
4. Death of Fred Kiball, John Osterhouse and Francis H. Grooters.
7. Orrin Brown of Olive sent to Ionia for 90 days for stealing a gun.
8. Death of Curtis W. Gray.
11. A dog poisoner creating havoc. People's Party county convention. Death of
Dennis VanBoomgard.
13. John Fay of Berlin sentenced to Ionia for three months for larceny of a suit of
clothes. Spring Lake village election. Lucius Lyman elected president. Death
of Rachel McCarthy.
14. Grand river on a terrible rampage. Higher than for years. Spring Lake bridge
carried away by flood.
15. Owen C. Pearl sentenced to Jackson for 20 years for heinous crime. N.
Robbins, jr.'s office burns. Marriage of Wm. Smith and Katherine Dykhuis.
16. Geo. Uhler, president of the national N. E. B. A. visits here.
19. Burning of Green and Barnes' cooper shop. Death of Sylvester Charnley.
23. Lively local campaign. Launch of Str. Maxwell. Coopersville Masonic Lodge.
dedicated.
24. Miss Henrietta Bos has an arm broken in a runaway.
25. Deaths of Otto Schimdt & Nora McCharty.
27. Inspection of Co. F.
28. Death of Daniel Really. Dem. And Rep. city conventions.
29. Arrival of Myrtle M. Rose, first boat other than the regular line, to arrive this
year. Cobb and Stokes have anew boat built.
30. Capt. Mansfield elected major of 2nd Inf.
APRIL
3. D. O. Watson appointed collector of customs. Election Day. Henry Bloecker
elected mayor. Court house project carried.
4. Str. Atlanta arrives on first trip.
5. Marriage of Carlotta Bailey and C. E. Ewing in Grand Rapids.
6. New city council inaugurated. Tidal wave along lakeshore.
12. Ottawa county S. S. Association in session at M. E. church. W. H. Loutit
contracts for a large steamer. Str. Racine arrives.
13. Death of Anthony VanToll.
15. Death of Mrs. Chas. H. Adam's little son in Georgia. Str. A. M. Gill leaves
her winter quarters.
16. Mrs. Jane Cooper of Nunica suicides.
17. Mayor and Mrs. Henry Bloecker celebrate their silver wedding.
18. Mysterious death of Alice Wilds in Grand Rapids.
19. Tug Miller goes on beach to save her from floundering.
20. Ritzema's store burglarized. Molloy elected chairman board of supervisors.
22. John Cook receives pardon from queen of Netherlands.
23. Wiley water works and city aldermen have a conference.
24. Co. F. banquets Major Mansfield.
25. Dist. W. C. T. U. convention.
26. Corn Planter Works struck by lightning.
28. High school celebrates Arbor Day.
29. Farnham's dredge burns at Green Bay.
30. Death of Harm Kinkema.
MAY
1. Stmr. Boyce leaves for Escanaba. Baby daughter of James Lock falls from
second story window and seriously injured. Building committee agree upon
plans for new court house.
4. Marriage of F. D. Vos and May Young.
7. Barn on Dr. Cumming's farm burned.
9. Marriage of Grace Alhouse and John Roney.
10. John Lenthem at work raising burned tug Wright.
11. Spring Lake suffers a terrible fire. One quarter of the town destroyed.
14. Ed. Gillen falls from Ferrysburg bridge with his bicycle, narrowly escaping
drowning.
15. Incendiary fire at Jackson St. School. Quarterly conference of Ref. church.
17. State Fireman's convention here.
18. Firemen's convention adjourns to meet at Hastings next year. Banquet to
firemen.
22. Luman Jenison arrested for violating liquor law.
24. Prof. Briggs announces his resignation as Supt. of Public Schools.
25. Prof. Estabrook called to the Grand Haven schools.
26. Death of Cornelius Addison.
27. Thieves in the Corner Grocery.
29. Jacob Fees of Grand Ledge suicides by jumping from Str. Atlanta in mid lake.
30. Eastmanville post office robbed.
31. Marriage of john DeCatur and Minnie Fisher.
JUNE.
3. Str. McGregor leaves for Escanaba.
4. Marshal Klaver arrests burglar Henderson.
5. Death of Professor A. B. Taylor.
6. Brilliant wedding of Miss Frances S. Sheldon and Mr. W. W. Edwards.
7. Marriage of Lizzie Kooiman and Antony Van Lopik.
8. Fourth of July meeting.
9. Death of Mrs. E. J. Avery. Agnew has a haunted house.
10. Death of Jos. W. Hutty.
14. Akeley College closes. Marriage of Mr. John VerKuyl and Mrs. Lulu
Carpenter.
15. Marriage of Henry Moll and Annie Betzloff. John Parkinson's barn in
Robinson burned.
19. Arthur Daily of Spring Lake arrested for forgery.
21. Death of Ress Waters. Ward and Russell of Flint given the contract to build
the court house.
22. Closing exercises of Grand Haven schools.
26. Stmrs. Atlanta and Ludington take out a big World's Fair excursion from here.
29. Four Grand Havenites graduate from U. of M. Wm. Whitman well known
here robs Springfield Ill. express office.
JULY.
2. Sloop Druid of Chicago in port.
4. Grand Haven celebrates the 4th.
5. Ollie Anderson of Brooklyn N. Y. drowned from an exhibition whale boat
between this port and Holland.
11. The Misses Plant arrive here on their walk to Chicago.
12. Marriage of Nellie DeGlopper and Edwin Pennoyer.
13. Olden time picnic at Spring Lake.
14. Death of Ferdinand Meilke.
15. Finding of Ollie Anderson's body.
18. Foundation of court house started.
19. Arthur Daily went to Jackson for one year for forgery.
22. Drowning of Frank Smith.
23. Stmrs. City of Milwaukee and Christopher race about even at finish.
25. Death of Andrew Knudson. Fritz Van Hall accidentally shot in leg.
28. Death of Mrs. James Lewis.
29. Regatta on the water front.
30. Death of Chas. Christmas. Marshal Klaver captured a supposed horse thief.
AUGUST.
1. Blast furnace at Fruitport shuts down.
3. Simon Juistema has a narrow escape by touching a live wire.
4. County teachers examination.
5. Henry Lubens, a fourteen year old lad drowned near the Beech Tree mill.
7. Annual camp meeting of church of god in this city.
8. Paul Janusch arrested for robbery on City of Milwaukee.
9. Co. F. departs for Island lake for annual encampment. Body of August
Lindow found in the river near Pottawatomi Bayou. His death a mystery
though supposed to be suicide.
11. Stmr. Valley City takes an excursion to Fruitport and remains all night stuck in
a fog bank.
12. Daughter of K. Luinings badly injured by pitchfork.
13. Old Boyden warehouse burned.
14. Steamers Racine, Chicago and Menominee take world's fair excursions.
15. Trientje Schreur of Nortonville arrested.
17. Merchants picnic at Macatawa.
21. Court house corner stone laid. Thousands of dead grasshoppers found on the
beach.
22. Stmr. Valley City leaves Grand River for Toledo.
24. Stmr. McGregor arrives for temporary lay up.
25. Death of Drummer Boy Child Duverney at Milwaukee Soldier's Home.
Check above
27. Ray Lockie accidentally shoots himself in the hand.
28. Death of J. T. Davis
30. Big Netherlands day excursion to Chicago. Pearls being found in Grand
River. F. C. Appley here on his way form Rhode Island to the world's fair in
light canoe.
31. Ottao Smith and Delbert Sherphorn of Harrington sent to Jackson for five
years for burglary.
SEPTEMBER.
2. Death of Mrs. C. L. Barron.
3. Death of Mrs. James Emery.
4. Public schools open. Marriage of Chas. WerWy and Ettie Sleutal. Sheriff
Keppel arrests the youngest horse thief in the business, a ten-year-old boy
named Reeves, for stealing in Berlin.
9. L. Haughey's stable boy goes to jail for stealing cigars.
11. Capt. Robbins buys Vanderhoef place. Steamer McGregor again starts out.
13. Marriage of John Boyink and Maggie Golden. Death of E. G. Norcross in
Milwaukee.
18. Forest fires cause great smoke on lake. Miss Mary A. White celebrates her
80th birthday.
19. Marriage of B. Beekman and Bessie Bishop. An attempt made to burn East
End Shoe store.
21. Paul VanderVoort found lying dead in the Spring Lake barber shop.
27. Business men's club up the river hunting. Congressman Richardson introduces
a bill for a public building here.
29. First of the pier cribs sunk.
OCTOBER.
2. Large Buffalo coal fleet in port.
5. Co. F. elects officers—Baltus Pellegrom, captain.
8. Capt. Smallman taken ill in Milwaukee. Rig stolen form Lee Haughey's barn.
9. Henry Dyk shot through the heart by Frank DeVries while trying to enter Wm.
Kooyer's store in Noordeloos.
10. Death of Capt. J. F. Smallman of the City of Milwaukee.
11. Killing of Dyk the absorbing conversation. Jos. Washer steals a pair of pants
from VandenBosch's store and goes to Ionia for 90 days.
12. Funaeral of Capt. Smallman. Death of Willie Fritz.
13. A thief again visits VandenBossch's store. Many vessels lost on the lakes,
among the number the Dean Richmond.
16. Wm. Lievense loses a thumb at the C. & W. M. depot. Geo. W. Brown a
prisoner in the county jail attempt suicide by hanging. Death of little Agnes
Dundas.
17. Death of James Scott in Arkansas.
18. Marriage of Wm. Baker and Clara VanHoef. Burning of the G. H. Ship
Building Co's saw mill.
19. Death of John Pennoyer.
24. Death of John Kohlof.
25. Death of Riley Mickham of Lamont resulting from a kick of a horse.
28. Barge Sophia Minch put in here disabled.
29. Mrs. Fred Meilke robbed in Chicago.
31. Large number of vessels in port wind bound.
NOVEMBER.
1. Akeley College celebrates All Soul's Day. Schooner Robert Howlett goes
ashore at Skillagalee. Capt. and Mrs. Frederick Behm celebrate there silver
wedding.
2. Death of M. VanDenBoomguard.
3. Steamer Roanoke arrives on first trip. Death of H. VanToll.
4. Marriage of Ellye Glover and Jos. Holbrook in Chicago. Launching of Stmr.
Pentland.
6. Spring Lake house robbed.
7. Lamont post office robbed.
8. Frank DeVries declared not guilty of manslaughter.
9. Shelving in Dr. Mastenbroek's drug store topples over.
11. Stmr. City of Milwaukee closed the season. Stmr. Racine makes last trip.
14. Marriage of N. R. Howlett and Mrs. Mathilda Baker.
16. Sam T, Nyhard sent to Jackson one year for forgery.
21. A highwayman attempts to rob R. Osterhoff.
22. Schooner wonder goes shore near Two Sisters.
23. Attempt to rob Jacob Pool of Spring Lake.
29. Abram Foster's barn in Robinson burns with contents.
DECEMBER.
1. Wm. Andres defeats Tom Cannon at wrestling.
3. Rev. Rogers instituted pastor of St. John's church.
4. Death of Capt. James Webber.
8. Wm. Andres again defeats Tom Cannon at wrestling.
9. Death of Mrs. C. VanderNoot.
10. Death of Mrs. John VanDrunen.
11. Wm. Bell, Ed. Reilly and Fred Lockhart arrested for assault and battery.
Death of Lydia Rork in Wisconsin. Wm. Taylor of Coopersville arrested for
stealing $150 worth of clover seed from Coopersville elevator.
13. Ice tug Thompson arrives.
15. Death of John McCue of Robinson.
18. Roosien Bros. store burglarized. Henry Sickman and John VerHoeks arrested
for crime.
20. Fall term of Akeley closes.
22. Decided to have a grand ball New Year's Day for benefit of northern miners.
23. Death of Mrs. Johanna Kamhout.
24-25. Nearly all the churches have Christmas entertainments.
27. Death of Mrs. Henry Balgooyen. Masonic lodges install officers.