Grand Haven Tribune September 29, 1980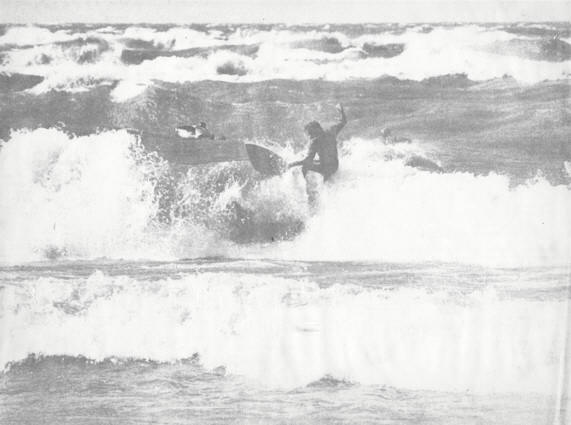 LAKE MICHIGAN SURF CLASSIC – A surfer struggles to gain possession of a wave near the Grand Haven south pier Sunday in the first annual Lake Michigan Surfing Classic. The contestants battled four to six foot waves during the day in 48 degree water. Jack Robinson of Grand Haven came away with the $100 prize and was crowned as King Surfer of Grand Haven. (Tribune Photo by Jim Gosen)
Experienced surfer wins 'Classic'
By RUSS HUMPHREY
Jack Robinson has been living and playing on the beach for 14 or 15 years now and has been surfing since he was 11-years-old.
He says he "works hard to save money" to support his surfing habit that takes him to exotic places like Central America or Mexico.
The 26-year-old Grand Haven native began the "art" of surfing on Lake Michigan and has since traveled with friends to Central America, spent three years with buddies in Mexico and taken repeated trips to North Carolina to improve his surfing technique.
And he still wouldn't have it any other way.
On Saturday afternoon his experience paid off. Jack Robinson won $100 as the top finisher in Grand Haven's First Annual Michigan Surfing Classic.
The surfing event was organized and sponsored by three area businesses, Bolands, Sun and Surfwear, Woodmark's Sound Center and Tip-A-Few Tavern.
Robinson won the top spot from 25 other contestants, most of whom were Tri-Cities area young men.
In second place was Steve White, who received $50 cash prize; in third place was Bill Pushaw, who received a $20 gift certificate from Woodmark's Sound Center; in fourth place was Kurt Hoffman, who received two free dinners at the Tip-A-Few Tavern.
The September winds churned up waves that reached four to six feet with the water temperature hitting 48 degrees.
Some surfers in the contest said the waves on Lake Michigan can be very challenging if the right kind of wind blows in from the north and churn up the water.
The event featured judges who scored each heat on a scale of one to 10 with the low and high score being dropped.
Judges were careful that no surfer interfered with another surfer. Wave possession was determined to be that surfer who stood up first on a wave, no matter where others may be located on the wave.
Most of the surfers were experienced in the sport, having traveled extensively in California, North Carolina and Western Mexico to work on their techniques.