TRI-CITIES ADVANCE — September 30, 1980
Surfers catch some waves
in Grand Haven State Park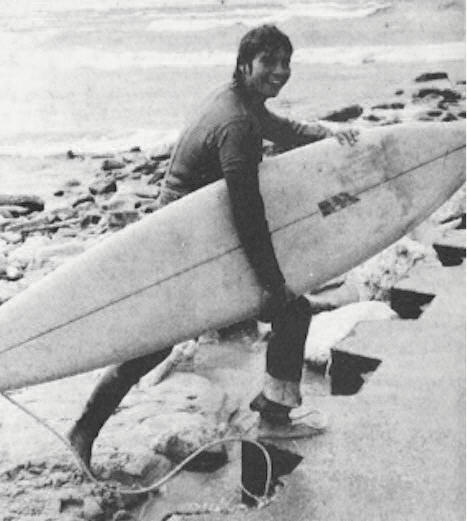 Advance photos by Margaret O'Dweyer
Jane Robinson, the only woman to compete in the contest, emerges from chilly Lake Michigan and heads out on the south pier to again launch her surfboard.
While they weren't California curls, the waves on Lake Michigan whipped up high enough Saturday to send 26 adventurists into surfing competition at Grand Haven State Park.
"These are ideal conditions," said contest director Bruce Boland as he surveyed the 4-to-six-foot waves near the south pier Saturday morning. "We prayed for waves and we got them," he said.
Braving the 48-degree water temperature, the 25 men and one woman — Jane Robinson of Grand Haven — competed in four heats. During the heats, the surfers were judged on the number of waves they could ride and the control they displayed on their surfboards. Most surfers strapped their boards to their ankles with a long rope, to make the boards easily retrievable.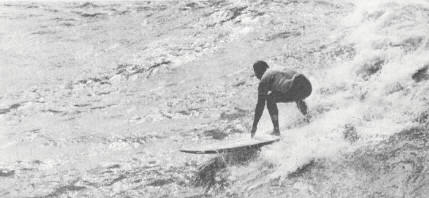 Struggling to maintain his balance, Jack Robinson catches a wave near the south pier. Robinson won the surfing contest and a $100 first prize.
According to Boland, the surfers are local residents who have practiced on waves in various oceans. Only experienced surfers should venture into such conditions as were exhibited at the pier Saturday, Boland said.
The surfers are reviving the Great Lakes Surfing Association, a club which folded about ten years ago, Boland said.
"It gives the kids something to do at this time of the year," said Boland.
"It's all for fun. No one wants to get television-serious, but it's all fun just the same, said surfer Frank Tobin of Grand Haven, as he applied control wax to his surfboard.
A first-place prize of $100 was awarded Jack Robinson; second-place prize of $50, to Steve White; third-place prize, a $29 gift certificate to Woodmark's Sound Center, to Bill Pushaw; and a fourth-place prize of two free dinners at the Tip-A-Few Tavern, to Kurt Hoffman. All surfers were Grand Haven residents.
The contest was sponsored by Boland's Sun and Surfwear, Woodmark, and the Tip-A-Few, all Grand Haven establishments.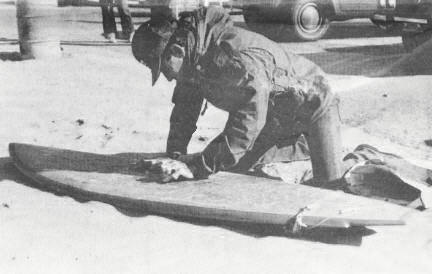 Frank Tobin, of Grand Haven waxes his surfboard in preparation for Saturday's contest.