Grand Raids Press January 19, 1974
The lakes are great for surfing, they say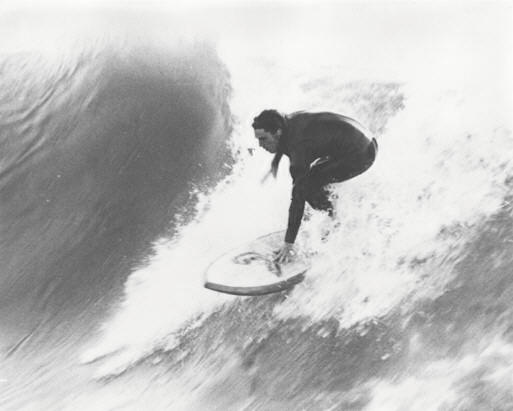 THAT'S NOT WAIKIKI — Some hardy souls such as Bob Pushaw get their winter kicks by surfing on frigid Lake Michigan waves. Well, at least they don't have to watch out for swimmers getting in their way.
GRAND RAPIDS — Winter tourists in this state may have difficulty believing their eyes when they see surfers on fragile boards, skimming over the surface of Lake Michigan until the ice floes close in.
Clad in rubber suits, helmets and gloves, they say the big challenge of surfing comes not in summer — when the water is relatively calm — but when winter whips the cold, gray waves into long, strong swells.
Summer surfing here generally is best immediately after a storm. By late October, however, the pleasant southwesterly breezes give way to more forceful northwesterly winds that often churn up Hawaii-like rollers along Michigan's 250-mile coastline from Indiana to the Mackinac Bridge.
One of the most popular points, but no place for a beginner, is the "Rock Pile" at Grand Haven's south shore. Veteran surfer Jerry Kamen, a Grand Rapids photographer, explains why:
"THERE ARE big rocks on shore and if you wipe out there, you get fractures and broken bones. But people are really nice: if your board winds up there, they'll climb out on the rocks and pick it up till you can swim for it.
"At the Rock Pile, you go out half the length of the pier. On a southwest swell, when the waves downshore are breaking about two or three feet, the waves at the Pile are three to six feet. That's because they hit the side of the pier double in size and fold over.
"The surf out of the southwest carries you right into the pier and an inexperienced surfer will slam right into it. You must make a hard bottom swing right. Also, you can't paddle out on the water in the usual way; you must walk out on the pier and jump to the lower level, then from there into the water.
"YOU LAUNCH yourself off the pier and must know how to judge waves. One that looks huge may become small when it arrives; the little one behind it may pick up momentum and turn out big."
How do you learn? The hard way — through plenty of practice and patience.
But what about the cold? Can a normal body bear Lake Michigan's winter winds and frigid water? Certainly, in a good leakproof "wet suit," Kamen said.
Now, if you're ready to take the plunge, you can write for more details about lake Michigan surfing — winter or summer variety — to the West Michigan Tourist Association, 136 East Fulton, Grand Rapids 49502. They might even save you the expense of going to Hawaii.