The Evening Tribune May/June, 1891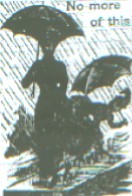 Rubber Shoes, unless worn uncom-fortably tight, generally slip off the feet.

THE "COLCHESTER" RUBBER CO.
Make all their shoes with inside of heal lined with rubber. This clings to the shoe and prevents the rubber from slipping off.
"Call for the Colchester"
"ADHESIVE COUNTERS."
At Retail By
N. J. BEAUDRY,
JUISTEMA BROS.,
RUTH BROUWER,
Grand Haven, Mich.