Grand Haven Tribune June 12, 2002
Surfer saves Spring Lake youth from drowning
BY SUEANN T. MITCHELL
smitchell@grandhaventribune.com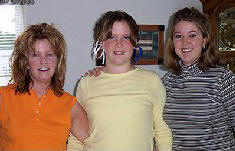 Madison Shinn (center) recovers at her home following a near-drowning incident Tuesday evening in Grand Haven. Madisonís mother, Cindy Shinn (left) and sister, Ashley Berry (right) both say they are glad to have Madison home after she spent Tuesday night at Butterworth Hospital in Grand Rapids.
Jeremy Michael Lonnee said he went out surfing "on a whim" Tuesday evening. This morning, the 26-year-old surfer from Grand Haven is being hailed as a hero.
Lonnee saved a 12-year-old Spring Lake girl from drowning in Lake Michigan near the south pier Tuesday evening, according to Lt. Rick Yonker of the Grand Haven Department of Public Safety.
GHDPS officials were called to the south pier shortly before 6 p.m. Tuesday after Madison Shinn, 12, of Spring Lake, was pulled to the shore by Lonnee, 26, of Grand Haven, authorities said.
Lonnee, who was surfing with another friend, said that the two were alerted to the fact that Shinn was having difficulties in the water after speaking with two of Shinn's companions on shore.
"I saw a little dot," Lonnee said, explaining that Shinn was probably 500-600 yards off shore past the first lighthouse.
Lonnee and his friend then paddled out to Shinn, he explained. Lonnee placed the youth on top of his surfboard, and transported her atop the surfboard to the shoreline near the south pier. Shinn remained there until authorities arrived, officials said.
Shinn was reported to be semi-conscious and having difficulty breathing when GHDPS officials arrived at the scene. She was transported to North Ottawa Community Hospital by ambulance and later transferred to Butterworth Hospital in Grand Rapids Tuesday night.
According to witness accounts, Shinn is believed to have been caught in an undertow and pulled to deeper water where she was unable to return herself to shallow waters.
"It was pretty scary," Lonnee said. He said that he spoke with Shinn to calm her as he was transporting her back to shore. "Her and her friends were pretty scared."
Yonker said Shinn was at the beach with several teen-age friends.
Lonnee, who has worked as a lifeguard for several years, said "I'm just glad I was out there." He considers the incident to be one of those unexplained "blessings" that he was in the right place at the right time.
According to Paul Vargo, Grand Haven State Park employee, Lake Michigan swimming conditions were under a red flag advisory. Vargo said a red flag was flown Tuesday because both the waves and riptides made swimming conditions hazardous. Although the state park flies colored flags to warn swimmers of unsafe conditions, Vargo said park officials do not have the authority to remove swimmers from the lake.
Shinn remains at Butterworth Hospital in Grand Rapids. According to a hospital spokesperson, she is in good condition and is expected to be released today.
Another near-drowning victim, Bethany Tucker, 12, of Lansing, who was pulled from Lake Michigan in Grand Haven last Saturday, remains at Spectrum Health in Grand Rapids in serious condition.