The Evening Tribune August, 1891
Maritime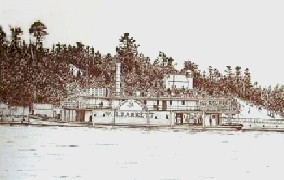 River Steamer W. H. Barrett.
8/1
The steamer City of Milwaukee left Milwaukee last evening with an unusually large list of passengers, most of them on their way to the G. A. R. encampment, the night being pleasant they were landed at Grand Haven at 3:30.
Steamer City of Milwaukee makes a special trip on Sunday, reaching here at 2 p.m. giving the Milwaukee people an opportunity to take supper in Grand Haven and leave on return trip at 6 p.m. Both Milwaukee steamers will make double runs until August 8th.
8/3
The river steamer W. H. Barrett went into dry-dock Saturday evening for repairs.
8/4
The pleasure yacht Brownee from Whitehall laid in this port Sunday evening going to Saugatuck Monday morning.
8/5
The life saving crew will give an exhibition tomorrow morning at ten o'clock.
8/7
The steamer Barrett of the Grand Rapids and Grand Haven docket line, is upon the boxes of the Mechanics Dry Dock Company in Grand Haven. Though built seventeen years ago, her hull is in excellent condition. She will resume her place upon the route first of next week.—Grand Rapids Democrat.
8/8
Senator F. B. Stockbridge will arrive in this city sometime next week on the Revenue Steamer Fessenden on a tour of inspection of the harbors.
Mr. B. D. Butler, the talented illustrator of the Grand Rapids Daily Democrat has been enjoying his annual vacation trip accompanied by his wife. They came over on the steamer from Milwaukee this morning, took breakfast at "The Norris" and today will yacht it with Mr. Saners from Spring Lake to Ottawa Beach. Mr. Butler called on the Evening Tribune to get a few pointers on all around newspaper work on a metropolitan daily.
8/10
The fish tugs Emma Bloecker, Chas. Auger, Francis Edward an J. W. Callister cleaned boilers at the water-works today.
8/12
The fishing tug "Frank Geiken" was launched at Charlevoix Monday and came to Ferrysburg this morning to receive her boiler from Johnson Bros. Her engine14x16, high pressure, was made by H. Bloecker & Co.
8/15
Thomas Scanlan of the fish tug Frank Edwards, was severely scalded this morning, by falling into a tank containing lye and water which was being used to wash the decks. Dr. Hofma was immediately sent for, and the man relieved as far as possible. He is reported to suffer great pain, though it is thought he will survive.
Mr. John Nesser has resigned his position as purser of the City of Racine, making his last trip Saturday night. He will occupy a place in the Adam's express office in Chicago. His many friends in the city will be sorry to miss John, and all wish him well in his new position. Mr. W. G. Sherlock will hereafter occupy the office of purser on the Racine.
A bottle has been found on the lakeshore just south of Benton Harbor, containing a rumpled paper signed by Frank Maynard and Wilbur Grover saying: "We are passengers on the Thomas Hums. The schooner's hold is rapidly filling with water and we have no hope of escape. We are on the St. Joseph course. We have friends in McCook, Neb., and Elkhart, Ind. Please notify them of our fate." No date.
8/19
A large part form this city chartered the steamer Joe last evening and made a trip to Muskegon.
8/20
That young navigator Captain Thos. McCambridge of the propeller Street, has beaten all previous records between Fruitport and Escanaba in the ore trade.
A party of five fishermen arrived in the city from Grand Rapids this morning. They rowed down from that city stopping at several places to pull up the finny tribes.
The Grand Rapids Aldermen took a junket to Milwaukee the other day via this city and the Steamer Wisconsin. Telegram Herald communicates on the affair as follows:
It was the steamer Wisconsin that sailed the summer sea.
And the skipper had taken the Common Council to bear him company.
Bright were their smiles as the dewy morning of a pleasant summer day.
And their noses were red as peony that opens in the month of May.
8/21

The tug B. L. Cockell of Pentwater arrived at 1:30 this morning. She is going on the dry dock at Kirby's ship yard for repairs.

8/22

Grand River was never known to be so low as at present. The steamer Barrett lies stranded at Eastmanville unable to get any further.

8/24

The barge Philetus Sawyer arrived with stone for the piers. She coaled at Kirby coal yard.

A scow load of brick arrived this p.m. for the electric plant.

Quite a number of our citizens went to Milwaukee Sunday night on the steamer City of Milwaukee, and all report a good time.

The steamship Atlanta, of the Goodrich line, left Chicago this morning at one o'clock and arrived in port about a half past eleven, which is remarkably good time in a heavy sea. The Atlanta proves to be a first-rate sea boat and the passengers who came over in her have nothing but praise for her and her gallant crew.

8/26

The barge V. E. Rumler of Silver Lake, with others ran into our harbor last night and remained until this morning when the rather heavy sea which had been running was subsided somewhat.

8/27

The tug B. L. Cockrell which has been on the dry dock at Kirby's ship yard returned to Pentwater this morning.

The Lizzie Walsh, Captain Aris Woltman, with a large crowd of excursionists from Ottawa Beach arrived here this morning.

Spiles are being driven for a dock for the electric light plant.

8/28

The government tug Williams was in port today.

The large government dredge Saginaw arrived in this port this morning.

The schooner J. W. Johnson arrived from Muskegon with a load of shingle blocks this p. m.

The steamer Atlanta got in three hours late this morning, caused by a heavy sea outside.

The pleasure boat Favorite from Ottawa Beach was in our port yesterday.

The steamer Joe goes off the route between here and Fruitport Sunday, and will go on the Ottawa Beach and Holland route. The steamer Sprite takes her place.

8/29

The government boat Hancock is in port today.

The government tug Williams with her three consort scows left last night for Michigan City.

Wednesday morning as the City of Racine neared Chicago she discovered some wreckage floating in the lake. It is now thought to belong to the lost schooner Thomas Hume, and Capt. Seth Lee of Muskegon has been engaged to make a search for the craft. If found, a diver will go down and examine it.

8/31

The City of Racine in coming out of the Muskegon harbor Saturday struck the bar three or four times.

A man fell through the dock yesterday morning as he was carrying the line of the Atlanta to a pile.

The steamer Wisconsin after several attempts to make Muskegon harbor, returned to this city Saturday afternoon. Muskegon is continually bragging of its superior harbor advantages and yet their is not a captain on the lake that would enter that port in a heavy sea.

Engineer Ludlow is actually surveying Grand River, the Grand Rapids folks still insisting that it can be made into a great ship canal and their city into a seaport. Colonel Ludlow works for a steady salary and under order, but he must be frescoed inside with inward smiles as he thinks of the absurdity of the whole scheme. As well try to move Grand Rapids by rail to Grand Haven.—Muskegon Chronicle.