Muskegon Chronicle July 3, 1988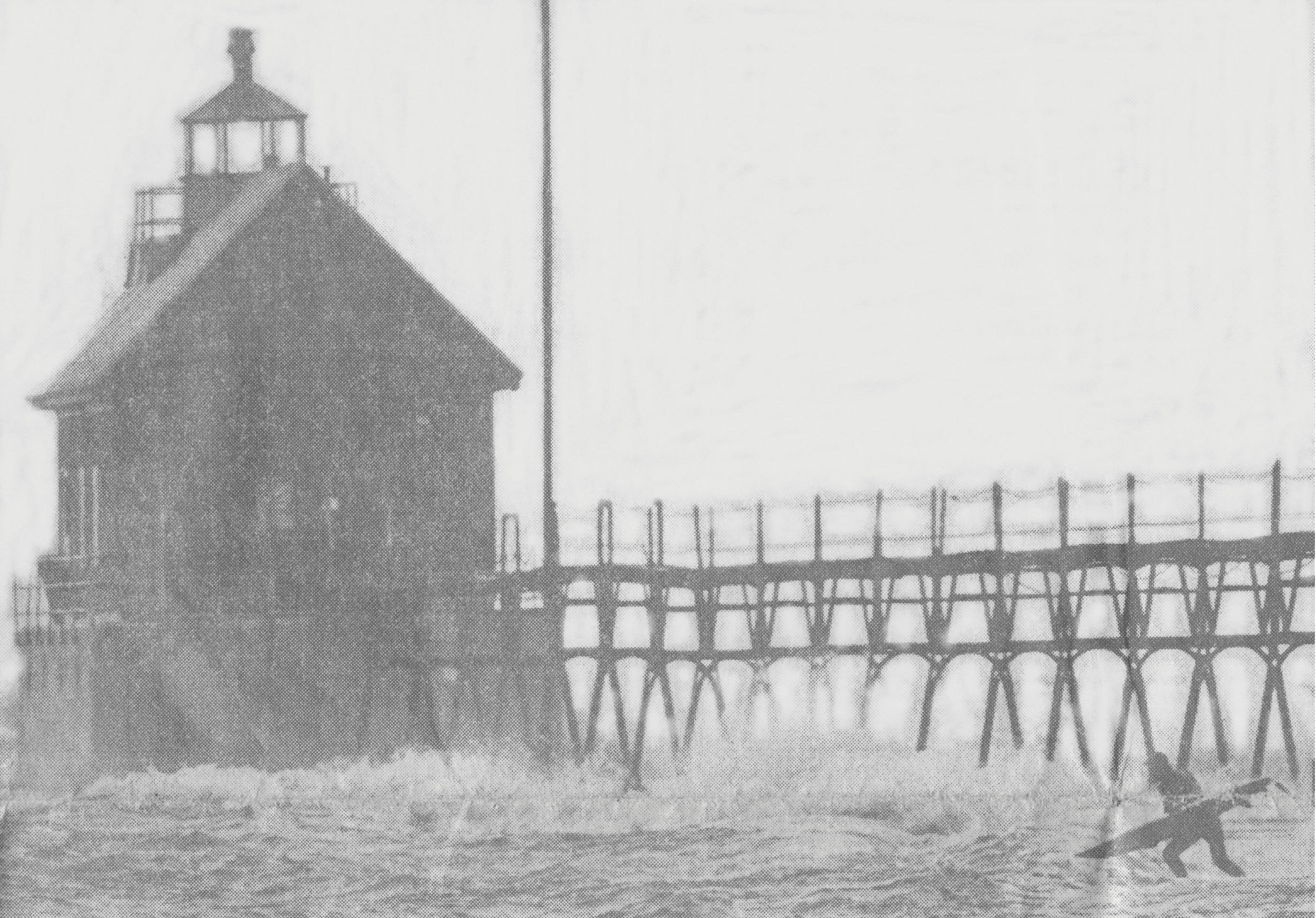 A Lake Michigan surfer ventures into 8-foot waves off the Grand Haven pier on a fall day.
NEW WAVE
Sport of the '60s catches on again, as surfers flock to Big Lake
BY MICHAEL A. YOUNTS
Chronicle special writer
GRAND HAVEN — Bob "Aqua Doc" Beaton's philosophy of running his Fruitport waterbed store probably won't earn him accolades from the local chamber of commerce.
But among the small, but zealous group that shares his love for surfing on Lake Michigan, it couldn't make more sense.
"It (the store) takes up a lot of my time, but we have one iron-clad rule," says Beaton. Who opened the store about a year and a half ago. "Any time the waves are over four feet, we close the store and go surfing."
AT 41, BEATON is considered by many to be the "grand old man" of surfing in the area. But he's certainly not alone, as the sport that swept the nation 25 years ago gets a second wind.
Lake Michigan has never been what could be called a surfer's paradise. The season is short and the lake has a tendency to be choppy, as opposed to the large, well-shaped swells one would find in the ocean.
Despite such obstacles, there is a dedicated group of surfing enthusiasts in the area, many of whom have been surfing on Lake Michigan since the early '60s.
When the waves rise on the Big Lake, they appear with their colorful boards strapped to the tops of their cars and paddle off into the swells. During autumn gales, surfers can be seen carrying their boards out on the Grand Haven pier and launching into the approaching Lake Michigan waves.
BEATON, of 105 Polar, Grand Haven, was a founding member of the Great Lakes Surfing Association. The association, which started in 1964 with 250 members and has grown ever since. According to Beaton, Grand Haven is still the surfing center of surfing in the Great Lakes.
"There are a lot of places in the world that offer better surfing than Grand Haven, but Lake Michigan surfing offers its own special challenges. And besides," he said, "Its my home."
"Grand Haven has the best surfing on the Great Lakes," said Jerry Laughead, a 32-year-old Grand Haven long-time surf enthusiast.
"The other side of the pier, which everyone calls 'the rock pile,' is about as good as it gets. Some of the best surfing is in the fall when you can get some really nice groundswells from across the lake."
LAUGHEAD LIKED surfing so much that he spent 10 years doing little else. He traveled around the United States and Mexico working as a carpenter and lifeguard, and surfed as much as possible.
Dan VanderVeen, a clerk at professional Sports Outfitters, a Grand Haven clothing and sporting goods store, is typical of a new generation of surfers. Although only 19, he has been surfing for five years. He originally started out windsurfing, but has been gravitating more towards traditional surfing.
"I like it better," VanderVeen explained. "You don't have all the gear. You feel freer. It's more fun."
The new generation of surfboards are made of fiberglass and high-density foam, run between five and eight feet in length, and are priced about $175 to $400.
VANDERVEEN SAYS the sport is gaining in popularity among people his age.
"We/re selling a lot more surfboards than we did. A lot of windsurfers are buying boards. If there is not a lot of wind, but the waves are right, you can still surf," he said.
How does surfing on Lake Michigan compare to the ocean?
"The waves aren't as powerful and you don't float as well, but you don't have sharp coral, sea urchins. jelly fish or sharks," Vanderveen said. "I like surfing here, and a lot of people in the Grand Haven area are starting to get into it."
BEATON HAS arranged his life around surfing, covering most of North America. He spent ten years in Mexico surfing and leading expeditions to wild and remote areas. He's held a wide variety of jobs, all with one thing in common — they allow him the freedom to surf.
"The thing with surfing it is dependent on the weather. You can't just plan to go surfing next Thursday because you don't know what it will be like. When conditions are good, you have to be able to just go. If you're truly dedicated to the sport, you can't let anything stand in your way."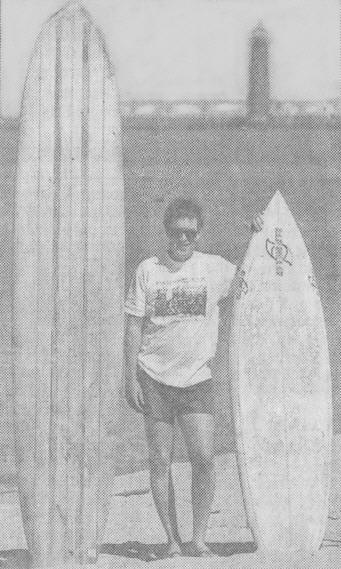 Bob "Aqua Doc" Beaton with two of his several boards.