GRAND HAVEN, MICHIGAN-49417-Wednesday, June 17, 1987
Boy 6, Drowns off pier
By BECKY ALLEN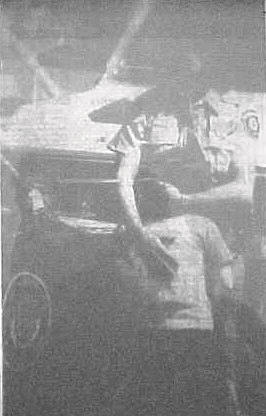 GIVING COMFORT - Grand Haven patrolwomen Renee Ejsmont comforts six-year-old David Agerstrand as his cousin is taken away by ambulance. The youths were playing on a railing at the north pier when Mark Agerstrand fell into the river Tuesday morning. He died later in the day. (Tribune photo by Mark Fellows)

A six-year-old Muskegon boy who fell off Grand Havenís north pier Tuesday morning was pronounced dead at 5:10 p.m. at Butterworth Hospital in Grand Rapids.

Mark Agerstrand was playing with his cousin, David Agerstrand, 6, on the pier railing west of the Coast Guard station when he slipped and fell into the Grand River, said Patrolman Bill Tombs, Grand Haven Police Department.

David watched his cousin fall into the water, then ran almost the entire length of the pier to where his grandfather, Glen Agerstrand, also of Muskegon, was fishing, Tombs said.

There were apparently no other witnesses to the accident, the police officer added.

Because the youngster ran to his grand-father, there was a time lapse of several minutes before emergency personnel were alerted. Once called, divers from the Ottawa County Sheriff's Department were on the scene in about three or four minutes because they were a short distance out in Lake Michigan on a training exercise with the Coast Guard.

IT USUALLY TAKES 15 to 30 minutes to get a diver in the water, depending on where he is, said Sgt. Dean DeVries, coordinator of the OCSD Dive Rescue Team. In this case the diver was in the water 14 to 16 minutes after the child went down.

Only one deputy could initially dive for the boy because only one air tank was immediately available. The training exercise was to include only surface rescue practice, requiring no scuba tanks.

Personnel had to return to where the divers embarked on the Coast Guard helicopter to retrieve more tanks and weight belts.

Diver Stan Hamstra found the youth in 20 feet of water next to the pier, about 30 to 40 feet away from where the search had started, DeVries said.

PARAMEDICS FROM NORTH Ottawa Community Hospital were able to detect a faint heartbeat and rushed Agerstrand to the hospital. He was immediately transferred by Aeromed to Butterworth Hospital where he was later pronounced dead.

Funeral arrangements are being handled by the Achterhoff Mortuary on Peck Road in Muskegon.