Grand Haven Tribune October 28, 1995
Man drowns when large
wave knocks him off pier
Friends' rescue attempts fail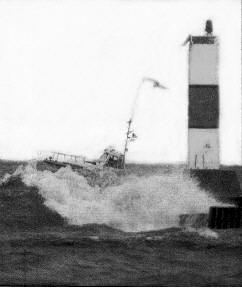 Chronicle/Dave Carlson
A Coast Guard boat nearly disappears in high waves while searching for a man who drowned in Lake Michigan Friday. An Aero Med helicopter, below, assisted with the search.
By Mickey Ciokajio
Tribune writer
A visit to Grand Haven turned tragic Friday afternoon when a 29-year-old man drowned after a giant wave tossed him from the South Pier.
Two friends dove in to save Eugene Victor Grochowski of Delton when he was washed in at 3:25 p.m. but 52-degree water and 8-foot waves prevented them from pulling him to safety, said Richard Szczepanek, deputy director of the Department of Public Safety.
Roger Smith, 30, of Kalamazoo, and 28-year-old Plainwell resident Mark Colwell managed to get back on the pier and were treated for hypothermia at North Ottawa Community Hospital. They were released Friday evening.
THE DROWNING is the first off the pier since new signs, advising caution in high waves, were added this spring. Thomas Sanders, 51, of Marshall, died Aug. 4, 1994 when a wave swept him and several family members into the water.
A 141-foot rescue boat from Coast Guard Station Grand Haven searched until 7 p.m. for Grochowski, Petty Officer John Wollny said. The turbulent waters prevented rescue divers from going in.
Aeromed rescue helicopter from Grand Rapids searched the waters until it was relieved by a Chicago-based Coast Guard chopper, which discontinued its search at 5:40 p.m., Wollny said. A boat and possible aerial search will continue this morning, said Sgt. David Loree of the Ottawa County Sheriff's Department.
GROCHOWSKI and Colwell were in Grand Haven Friday to visit Smith, who is a weekend resident at 718 Franklin St., Smith's mother said. The men went to lunch then headed to the pier around 2 p.m. to watch the waves, she said Friday evening.
Grochowski and Smith were longtime friends.
"He was a just a wonderful boy," she said of Grochowski. "The boys had grown up together."
Grochowski was a communications specialist at Bronson Methodist Hospital in Kalamazoo.
The three friends were on the pier at a time when the waves were crashing over the side and flowing waist-deep across the concrete. The navigational pier, which the cost and liability prohibit from being regulated, is a popular attraction for tourists.
AFTER Grochowski, who was wearing a heavy coat, blue jeans and Army boots, was swept in the water, his two friends quickly dove in after him. Grochowski was tossed off the channel, or north, side of the pier's end, Grand Haven's Sgt. Bob Marod said.
Smith was able to reach his buddy but high waves prevented him from holding on, Szczepanek said. Colwell was also unsuccessful in his rescue attempt.
With fatigue and hypothermia setting in, both men retreated to the pier, Szcezepanek said.
Smith was able to ride a wave back on top of the pier, Marod said. Colwell lifted himself onto the concrete. The two men called 911 from the State Park.
Officials are often frustrated by the lack of respect people, especially tourists, give the waves that crash over the pier in heavy seas.
Barricading the pier or putting up railings opens the door for lawsuits, as happened in Ludington and Muskegon, Ross Kittleman, chief of the Grand Haven area Corps of Engineers office, told the Tribune last year after Sanders drowned.
THE KEY is educating pier-walkers, especially those from out of town. Yellow and black caution signs, along with warnings stenciled on the concrete pier, were added this spring, Kittleman said.