Grand Haven Tribune December 3, 2005
Man walking on pier slips on ice, lost in Lake Michigan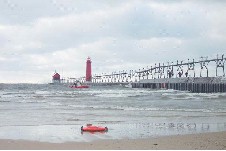 SEARCH: Emergency personnel return to the beach after searching for a man who slipped off the Grand Haven pier Friday. The life ring, above, floated up on the beach after the man's father threw it to him.
By Kyle Moroney Grand Haven Tribune
<![if !supportLineBreakNewLine]>
<![endif]>Rescue crews are expected to resume their search today for a 35-year-old Grand Haven area man who slipped off the Grand Haven south pier head Friday afternoon.
The name of the man presumed drowned Friday had not been released by police by late Friday pending notification of his family.
The man was taking photographs with his dad on the pier about 40 feet east of the first lighthouse when police believe he slipped on the ice and fell into the water, said Grand Haven Department of Public Safety Capt. Rick Yonker.
"We didn't see any waves going over the pier at that point," Yonker said.
The man's father called 911 just after 2 p.m., according to Yonker. The man's father attempted to throw one of the 15 life rings mounted on the pier out to his son. The life ring did not reach him.
The 23-foot rescue boat from Coast Guard Station Grand Haven immediately began to scour the water near the shoreline, while the station's 47-foot rescue boat lingered in deeper waters. The Coast Guard's helicopter from Traverse City circled the area until about 5:30 p.m., according to Lt. Craig Lawrance, operations officer of Coast Guard Sector Field Office Grand Haven.
The Northwest Ottawa County Dive Team was called out to the scene, but weather conditions prevented them from searching in the water.
The Coast Guard estimated someone could stay alive in the water for about two hours.
With forecasts of better weather conditions, divers and rescue crews are expected to resume the search today, Yonker said.