Dive for Body
Ann Arbor Man Washed Off
Pier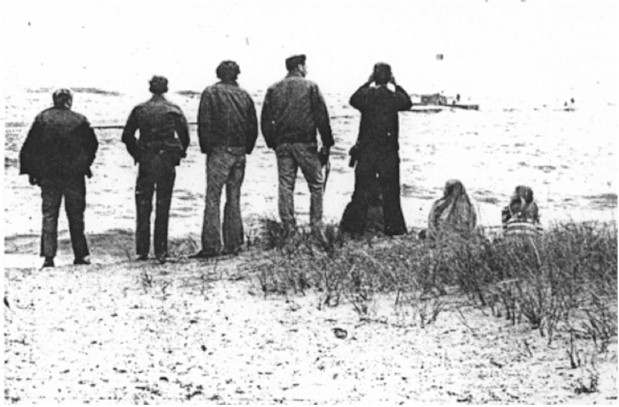 Drowning Scene
Searchers watch the waters of Lake Michigan for any sign of an Ann Arbor man who was washed off the North Pier Sunday afternoon. State Police and Grand Haven divers were still looking for Frederick Hunt, 25, at 11:30 this morning. (Tribune Photo)
Divers continued their search this morning for the body of an Ann Arbor fisherman who was swept off the North Pier into the waters of Lake Michigan Sunday afternoon.
State Police report that Frederick Hunt was fishing 30 feet from the end of the North Pier about 3:35 p.m. His wife, Jeanne, was about 30 feet closer to shore. Heavy waves had been breaking across the pier and one apparently caught him and washed him off the lake side of the pier.
Witnesses said Hunt, who reportedly could swim, tried to climb back up the side of the pier. However, he was dragged under again, possibly by hip boots he was wearing. Divers began their search late Sunday afternoon, but rough waters kept them from getting much done before dark. The water is about 25 feet deep where Hunt fell in and the bottom is strewn with boulders.
Hunt was reportedly a graduate student at the University of Michigan.
Sunday's drowning was the second in the Grand Haven State Park area this summer. The State Park had gone seven years without a drowning.