Grand Haven Tribune October 5, 1988
Search continues for Nunica
boy washed off south pier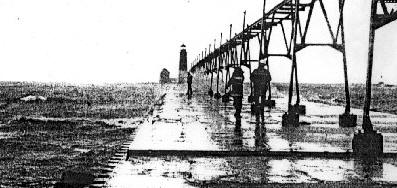 Tribune photo - Fred Vanderbrand and Dale Bower
Tragedy on the pier - A 12-year-old Nunica youth, Mark David Appel, was swept off the south pier and drowned at Grand Haven State Park Tuesday afternoon. An Aero-Med helicopter from Butterworth Hospital assisted in the search, although no trace of Appel was found during the two-hour effort Tuesday evening. Waves reaching 7-9 feet battered pier, where Appel and friend were playing when Appel was washed off. Gale warnings were in effect all afternoon, and the bad weather forced cancellation of the search, which was resumed this morning.
By Dale Brewer
Tribune writer
A 12-year-old Nunica boy was swept away by high waves and drowned off the end of the south pier Tuesday afternoon in Lake Michigan while playing with a friend just beyond the lighthouse during a gale warning.
Mark David Appel, 17546 130th Avenue, was visiting friends staying at the Grand Haven State Park, and was last seen by witnesses around 4:20 p.m., according to Don Potter, the boy's uncle.
Grand Haven Police Department Sgt. Gene Yonker said officials are continuing the search for Appel this morning, after dangerous conditions caused them to abort the search Tuesday evening.
A large wave "just came and swooped him off," according to Bobbi George, a vacationer from Westland who witnessed the tragedy from the parking lot.
Bobbi George's husband, Al, immediately called U.S. Coast Guard officials from a pay phone, who in turn notified Grand Haven Police. Two Coast Guard boats and park rangers rushed to the stormy site, but found no trace of Appel.
Bobbi George described her unforgettable experience. "We were just watching the waves hit the pier when we saw two boys walking toward the end of the pier playing tag between the posts." The two boys, prior to venturing out on the pier, were playing with two other youths at the foot of the pier, George said.
AFTER THE WAVE came, I told my husband, "my God, there's only one boy left out there" George said she helplessly watched as the other boy frantically came running back.
"It was just so unreal watching a life get snuffed out like that."
Appel, clad in a gray sweatsuit, was just about in between the lighthouse and foghorn building at the tip of the pier when he was knocked off, officials said.
Yonker said Appel and his companion were warned by Cathy Walker to not venture beyond the blue railings on the boardwalk. Appel was visiting Walker and her son at the park. The next thing she knew, her son returned but Appel didn't.
John and Jean Appel are the parents of Mark, who was a 6th-grader at Fruitport Middle School.
Officers and divers from the Ottawa County Sheriff's Department, Grand Haven Police and Fire Department, and Coast Guard searched in vain for the youth. An Arco-Med helicopter from Butterworth Hospital also scanned the water and the beach from above. Divers and Coast Guard boats will continue to look for Appel all day, unless predicted 4-5 foot waves force cancellation.
COAST GUARD CHIEF Jim Greene said the rough water nearly capsized a 22-foot rescue boat Tuesday inside the breakwaters about 200 feet off shore. He said 10-15 foot rollers were causing 7-9 foot surf at the shore. In addition to the 22-foot boat, Greene said a 41-foot vessel searched the area for nearly an hour and a half.
The extremely rough seas are not unusual for this time of year, Greene said. "During October and especially November, storms start coming out of the west and northwest and we see a lot of blowing and high waves.
Greene said this drowning reminded him of similar incident last summer, when a 6-year-old boy fell off the north pier. Both, he said, were cases in which adults were not around to supervise the victims.
Grand Haven State Park Manager Dick Label agreed Tuesday was not a good day to be on the pier. He mentioned park rangers struggled against the waves while standing on the pier looking for Appel.
He said the only way to avoid such tragedy is for people to stay away from the boardwalk and pier during stormy weather. "Similar incidents have happened in the past and I don't know what people are thinking when they go out there."
There is a standard Coast Guard warning sign on the pier, Label noted, plus the Coast Guard issues gale warnings telling people to stay away from the water. "It's certainly not a good situation," Label said of the tragedy, "you have to wonder why people venture out there."