Great Lakes Surfing Association
Beach & Pier Safety Database / Grand Haven Pier Fatalities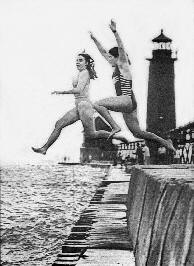 Jumping off the south pier has always been a popular pastime at Grand Haven.
18. August 19, 2003: Scott Allen Smith, 17, after jumping off the south pier into the lake, went under after being overcome by exhaustion. He died in the hospital two days later. One said that he may have bumped his head on a rock when jumping in.
Newspaper Coverage Other Information