Great Lakes Surfing Association
Beach & Pier Safety Database / Grand Haven Pier Fatalities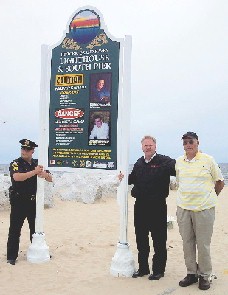 Pier warning sign erected in the wake of the loss of locals Mark Reiss off the south pier and Andy Scott to a rip current. Both of their pictures appear on the sign.
19. November 29, 2003: Mark Reiss, 19, was washed into the lake off the end of the south pier at night while with a group of a half-dozen friends. Mark was the only Grand Haven person lost off the piers. This tragedy led directly to the installation of life rings on the piers.
Newspaper Coverage Other Information
Back to Grand Haven Pier Fatality Page