The Grand Rapids Press November 20, 1966
From Sun and Sand To Snow and Sniffles
They're Surfing At Grand Haven – In November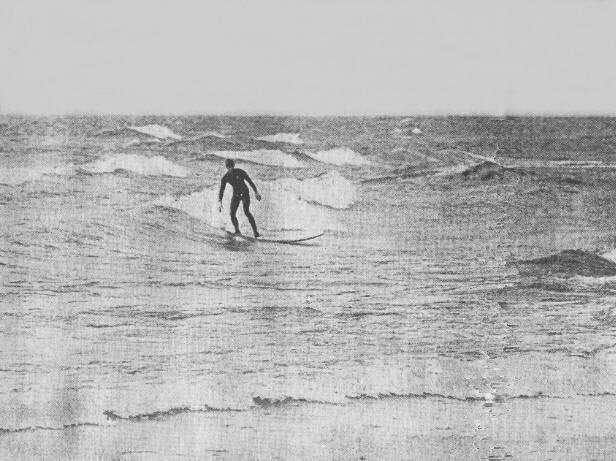 A BREAKER curls just behind the board of a Great Lakes Surfing Association member, above, during a mid-November session at Grand Haven. Waves are not as large as on the seacoast beaches but provide plenty of sport.
By BEN NOTTINGHAM
A young Grand Rapids group has brought a new sport to the Great Lakes.
And they've lengthened the period of participation to add "surf, snow and sniffles" to the standard "sun, sand and surf" routine.
The Great Lakes Surfing Association was born of a casual meeting on the beach at Grand Haven two years ago. Prior to that time, the sport has been virtually unknown except in west and east coast states.
Association members, now numbering 145 from the Great Lakes states and Canada, held their first championship competition at Grand Haven last Labor Day weekend.
Labor Day marks the start of good surfing weather along West Michigan beaches, according to GLSA president Robert Allen, 19, of 901 Floyd St. SW. Fall and winter months, he says bring consistently stronger winds and better wave action.
And Started New
Six club members ended last year's season with a surfing session on New Year's Day.
And the current season is still underway as deer season opens and Thanksgiving draws near.
Season – stretching surfers had the water to themselves last week at Grand Haven. There was a certain amount of sun but a noticeable absence of sun bathers and picnickers as club members rode the waves in temperatures which hovered in the 30's.
"We wear two wetsuits in cold weather," Allen explains, "with a short version under a full length suit. And we wear special wets suit boots and gloves, too."
Craig VanSingle, 19, of 2212 Richmond St. NW, winner of the senior men's event in the Labor Day competition, says the Grand Haven area is one of the best on the lake for surfing.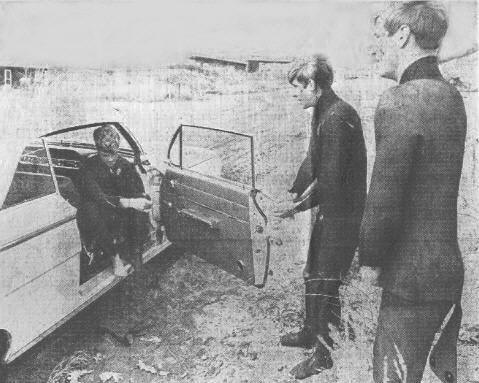 WET SUITS are worn against the chill of Lake Michigan for winter surfing expeditions. Suiting up are from left GLSA president Robert Allen and members Tony Molis of Caledonia and Rick Sapinski of Grand Rapids.
—Press Photographs by HENRY ZEMAN
Piers Block "Slop"
"The lake is wide there and you get good wave action from both the northwest and southwest. Farther south you only get good waves from the northwest." He adds that the Grand Haven piers help conditions by blocking off the "slop" of small, choppy, counter-waves.
VanSingle lost two of his front teeth when hit by his board after being "wiped out" during a Lake Michigan storm. He was caught from behind and tumbled by a breaking wave, which is known as "going over the falls."
Surfers often try to "lock in" just under the curl of a breaking wave and then keep slightly ahead of it for a fast diagonal ride along its steep side.
Another highly regarded feat is "hanging five" or "hanging 10" in which the rider stands on the nose of his board with five or ten toes curled over the leading edge. The downward pressure of a breaker curling over the back end of his board counter-balances the rider's weight on the front end. Such rides are usually short.
Stand on Water
"You get more speed nose riding," VanSingle says, and it gives you a feeling you're almost standing on the water when you're way out on the end of the board."
Club members say the length of a ride is not as important as what is done during its course. Respected accomplishments include locking in, hanging ten, walking the board, making radical (sharp) turns, climbing up and dropping down the steep face of an advancing wave and other balancing acrobatics.
"Riding the soup," or surfing in the foam which flows behind a breaker, is generally disdained as practice for beginners.
Balancing on a surfboard is similar to riding a skateboard, which has become popular in recent years. Surfing magazines advertise skateboards for dry land practice of surfboard techniques.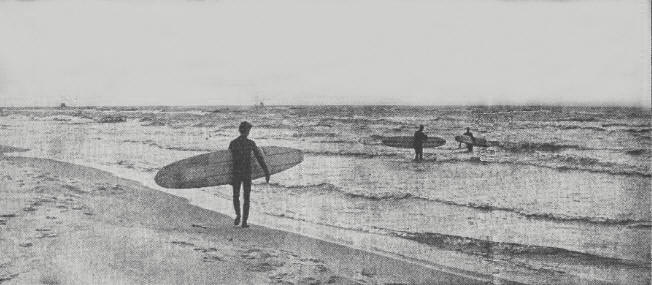 WINTER WATER SPORTS have the advantage of uncrowded conditions. There were few others on the beach and no one else in the water when surfers headed out to test Lake Michigan waves last week. Good wave action is often found following a storm or hard wind.
Good winter waves on Lake Michigan average thee to five feet, according to Allen, who says that "the type of wave means more than its size."
Check Surf Spots
As a service to members, the GLSA checks for surfing spots around the Great Lakes and has found conditions good at Ludington and Manistee along the east Lake Michigan shore and at Waukegan, Ill.
"Lake Superior is too rocky," Allen says, "and Lake Erie is too small for good waves. They surf in the wake of freighters on Lake St. Clair, though. Those freighters put up waves as high as eight feet sometimes."
Allen, VanSingle and other club members made a two-month tour of surfing spots along the east coast from New York to Florida last summer traveling in an old hearse and eating out of tin cans to keep expenses down. They averaged four to five hours in the surf each day.
"We found that the east coast actually has few spots better than Michigan," Allen declares, "but they get good conditions there more often."
Rowdyism and the "surf bum" types which give the sport a bad name are not a problem in the GLSA, Allen says.
'Hodads' are Few
"It's the 'pseudos' and 'hodads' that cause the trouble and there are very few around. Those are the types that like the big, romantic idea of surfing and buy all the fancy outfits.
"They like to play the role but they seldom show up when there's surf running."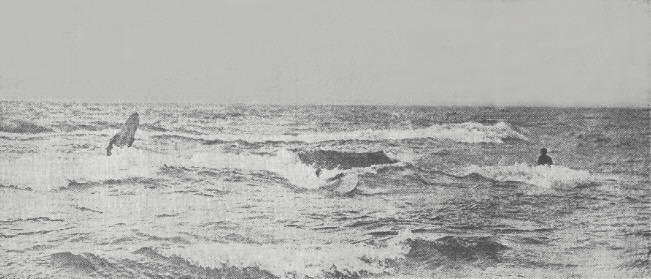 WAVES "WIPE OUT" an incoming surfboard rider as two others paddle out to get into position. Being caught from behind and tumbled by a breaker is known as "going over the falls. Grand Haven area, centrally located on the lakeshore, often offers good waves.
Basic equipment for the sport is a board and a fair-sized wave.
Boards average 10 feet in length and weigh about 25 pounds. They range in price from $100 for a "pop out" or mass produced board to $150 for a custom-built item.
The boards vary slightly in shape, as doe the "skegs" or fins which protrude from the bottom at the stern. Different styles of boards and skegs appeal to different uses and individual preferences.
Non-Profit Club
With headquarters at 151 Emmet St., Grand Haven, the club is a growing, non-profit organization dedicated to promoting the ancient Hawaiian sport on the Great Lakes. GLSA publishes a newsletter every two months which gives reports on surfing locations and numbers to phone for up-to-date information on conditions.
Car decals and shoulder patches have been made available and the association rules committee has adopted a code which includes respect for recognized authority, water safety and keeping beaches clean. Annual surfing "seminars" are becoming traditional.
Plans for next summer (not all surfers enjoy dodging mid-winter ice floes) include another contest for individual surfing honors and an invitational meet between clubs.
Other lake-area clubs are now in operation or are being organized. Allen says, and the future of surf riding in this area looks promising.
"Our main objective is to make surfing a recognized and accepted Great Lakes sport. We think it has a terrific potential for growth if people will learn more about it."