The Evening Tribune August, 1891
Resort News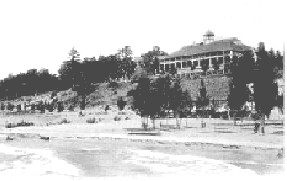 Highland Park Beach and Hotel.
8/4
Frank H. Gill and family and E. C. Durall and family have gone to Highland Park, near Grand Haven, to remain a couple of weeks.—Grand Rapids Democrat.
Red fire and sending up of balloons added to the many bonfires on the beach made it very interesting to the Park sojourners last evening.
EDITOR TRIBUNE.
Rumor has it that the general public are excluded from the verandas of the Park Hotel. The management wishes to state that there is nothing in the report and that all are welcome except that class of kid element of Grand Haven which our people well know are not wanted about every public place.
8/5
An enjoyable dance was given at the Highland Park Hotel last evening, which was largely attended by the cottagers and also the people from town.
8/8
Mr. Irish, superintendent and landlord of the Spring Lake Hotel, is a great success. Under the care and charge of himself and family the Spring Lake House is becoming the most popular resort hotel in the state. This is as it should be. We understand that they not only aim to make a success of the house, but to run it so that it will be a credit to the hotel fraternity, and a place where the best society will delight to come and bring their friends and families.
8/11
The Detroit, Grand Haven & Milwaukee is making arrangements to run Sunday specials to Spring Lake and Highland Park.—Grand Rapids Democrat.
Spring Lake is going ahead of Grand Haven as a summer resort. Wonder why.
8/12
The 1st Reformed church Sunday school is picnicking at Highland Park today.
8/14
Entertainment at the Park.
Those present at the Highland Park Hotel last evening listened to a very pleasing program. The entertainment was gotten up on very short notice, but each number was well rendered and encored. The program was announced as follows:
Duet—Anitra's Dance, - Grieg
Miss Rolston and Miss Glover.
Vocal Solo—Ballad - Goodwin
Mrs. L. J. Koster.
Recitation - The Station Master's Story
Miss Kittie Rice.
Vocal Solo—Thou Wondrous Youth, - abt.
Piano Solo, Swedish Wedding Procession, Grieg
Miss Marlon Rolston,
Vocal Solo—Persian Love Song, - De Koven
Miss Henry Miner.
Recitation, - The Maniac
Miss Kittie Rice.
Vocal Solo—An Old Garden, - Temple
Mrs. L. J. Koster.
Duet—Rondo, - Shubert
Mrs. John R. Rolston and Miss Glover.
Miss Miner, of Chicago, possesses a contralto voice of great depth and purity and her willingness to sing adds much to the pleasure of listening. She was accompanied by by Miss Boyden. Miss Rice recites well for one so young, and her rendering of the Maniac showed dramatic ability. Mrs. Koster is too well known in Grand Haven to need any comment. Her selections last night were particularly pleasing, especially the Ballad by Goodwin. The audience were delighted with Miss Ralston's playing. She has a bright career before her, if the present can foretell the future and St. Louis may well be proud of this pianist, who has already made a name in the musical world. The duets which opened and closed the program were very pleasing. Credit is due to Miss Glover, who managed the program, and thanks re due to those who kindly gave their services for the benefit of the Park and Hotel fund.
8/28
The Spring Lake House closes Sunday for the season.
Evening Tribune Front Page Next Section