Newspaper Unknown Mid-1970s
Surfer Catches Summer on the Downhill Slide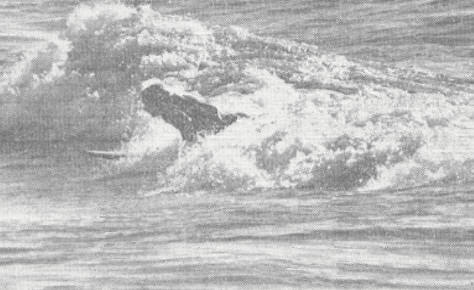 Once in the Surf, Itís a Short Chilly Ride to Shore
Summer is with us until the autumnal equinox at 10:55 a.m. Sept. 23, but even as Kirk Kisinger of Grand Haven tried Sunday to catch a good ride on Lake Michigan waves there was a hint of fall in the air.
The water temperature was 52 degrees and the air in the low 50s. Kirk wore a wet suit, so he wasnít bothered too much by the cold. However, the waves were running from 2 to 5 feet and ideal is 4 to 8, so good rides were sparse.
Lake Michigan surfing doesnít compare with riding waves on the ocean, area surfers agree, but when the southwest winds are up ó and small craft are advised to stay off the lake ó about 75 devotees hustle out to the Grand Haven pier to ride the waves.