Five Mile Hill Treasure Book
This is probably one of the most exciting historical adventures a person could have. It is the story of a treasure of 'stolen loot' consisting of $64,000 (1870s value) worth of gold coins and diamonds buried in two satchel cases on Five Mile Hill in Grand Haven. I have the Grand Haven side of the story well documented, most of which will be posted here. Future work on this project will be focused on the actual robbery in Kalamazoo, MI. and all of this will be published.
Sample Content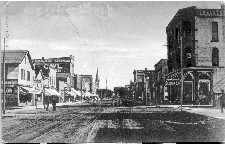 Grand Haven Daily Tribune
October 7, 1899
There arrived in town this week from Grand Rapids, two strangers who have been quartered at the Kirby House. These men brought with them strange instruments and would leave every morning to be gone the remainder of the day, on business no one knew. There is an air of mystery about it all, and it has just been learned that they are in quest of a large sum of money that was hidden in the sands of one of our lake shore hills nearly a quarter of a century ago. These strangers are not telling all they know about the matter and are here to find the gold, which amounts to several thousand dollars. They have brought with them instruments used by mining prospectors to indicate if there is any metal in the earth. Their work will be watched with interest, but successful or not they will never tell. That there is gold in these hills of ours, old citizens will never dispute. Nearly twenty-five years ago Curtis W. Gray, then coroner, was called to Jackson penitentiary at the request of a supposedly dying convict. This convict told Gray of a great robbery he had been interested in, in which he had gotten away with several thousand dollars in gold booty. Being closely pursued, the robber struck off for Grand Haven. He arrived here late one afternoon, with his weight of stolen gold, and fearing detection, that same night buried the treasure in the hill immediately back of the light house, thinking that some day he would have the opportunity of returning after it. The criminal, however, had got mixed up in another robbery, and was serving a long term in prison when he summoned Mr. Gray to his bedside. He told the latter everything and gave an exact description of the tree on light house hill near which the gold was buried. Mr. Gray returned and spent days in looking for the treasure, but without success. The tree was there exactly as the convict had described it, but some years having elapsed, the drifting lake sand had probably shifted the treasure, many feet from its original location. Our present marshal, genial "Ike" Sanford, assisted Mr. Gray in the hunt, but nothing was found. And this same gold is probably what the strangers from the Rapids are looking for now. The names of the men who are here in search of the treasure are N. Stebbins and William C. Baty. The later registers from Pueblo, Colorado. Mr. Baty, it is reported, has sounded the earth with his instruments and is confident that there is something there. He will put a team at work Monday in grading.
---