Grand Haven Daily Tribune October 20, 1896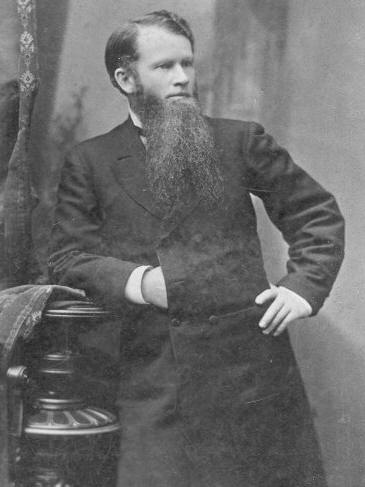 Loutit Library

LINES

Written upon the death of Ex-United States
Senator THOMAS – WHITE FERRY,
who died at his residence in this city,
October 13th, 1896.
—
BY DAVID FLETCHER HUNTON.
—
We saw him calmly sleeping
In death's last cold embrace;
But with immortal beauty
Reflected in his face!
We saw no tapers burning
Around that silent form,
But knew his soul had safely
Anchored beyond the storm.
Death gave him little warning
To bid his friends "goodby!"
But Oh! he said "Good morning!"
To waiting ones on high!
'Twas sad to see him leaving
With no "last word" to say—
To see him grow immortal,
And upward wing his way!
This sorrowful transition
From earth to heaven above,
Was granted by permission
Of Him who rules in love!
His "chastning" is not "joyous;"
It grieves us so today
To know that God has taken
Our best beloved away.
This taking seems unreal!
We would not have it so!
Aye! We feel unreconciled
To let this dear one go!
But oh! our sight is feeble,
Our reasoning at fault,
We do not know God's purpose,
When calling us to halt!
It will not do to question
God's acts and His decrees!
But we must learn submission,
In meekness on our knees!
Oh! We should learn the lesson
Taught by God's only Son;
Learn to say confidingly,
"God's will—not ours—be done."
Jesus left Gethsemane,
And passed through death's cold wave;
And thus he blessed the pathway
That leads us to the grave!
Through him who died for others,
"The Christ of seven wounds,"
We all can bear our crosses,
And wear our promised crowns.
A good man has departed!
We hear his voice no more!
A kindly face has vanished
And all our hearts are sore!
We should to God be thankful
For lives like his, inwrought
With Honor, Fame, Position,
And Principles, unbought.
He won in State, and Nation,
A proud, distinguished name!
He gained an envied station—
The highest niche of Fame!
From humble undertakings,
To those of high emprise,
He rose to grand positions
In the official skies!
From "House" into the "Senate,"
And higher still he went;
Until he reached the office,
Of "Acting President!"
A brilliant star has fallen!
A Gem, has left our sky;
To shine with added luster,
In Paradise, on high!
Oh! hearts that now are grieving,
O tears that fall like rain;
Look up in faith believing,
He will return again!
When other skies are brightning,
And tears have all been dried,
He'll gaze into your faces,
As if he had not died!
Sometimes at early evening—
In twilight's holy calm—
His vanished hand will nestle
Within your waiting palm!
Aye! Something light and airy—
Invisible is hue—
With footsteps like a fairy,
Will often walk with you!
Something unlike a phantom,
And more divinely fair,
Will come into your presence
And take that vacant chair!
Sometimes, when life's great duties
Call you to do, and dare;
His spirit-lips will whisper
For you a helping prayer!
And while that form of beauty,
Decays in yonder tomb;
His soul will bud and blossom
With everlasting bloom!
Oh! hearts depressed, and lonely,
God's endless chain of Love,
While taking just one blessing,
Brings thousands from above!
Grand Haven, Mich., Oct. 16, 1896.