The Evening Tribune September, 1891
THE NEW CUTLER HOUSE OPENS.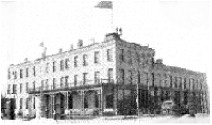 The New Cutler House.
9/1
Will Be Open Tomorrow.
The new Cutler House is about ready to drop into line along with the other 1st class hotels of Michigan. The elegant fixtures and furnishings are all in place and tomorrow the house will be opened and the first meals served, though the formal opening will not take place until several days later, the exact date of which has not yet been decided on.
John Verkuyl the popular steward of old Cutler, and recently of the Spring Lake House, has the stewardship of the new house, and with John Williams, also cook of the old Cutler House, for the cook of the new, and Mrs. Beird pastry cook, the excellence of the management in these important departments is assured, while the appointments in every other part of the house are as well chosen. The Cutler House is indeed a credit to our city.
9/4
Cutler House Opening Spread.
The new Cutler House was opened to the public Wednesday, and it is already receiving a generous patronage. Twenty-two guests were registered yesterday, and everything points to a good business, which is already better than anticipated.
The house will give its first grand opening dinner, Sunday to which the public is cordially invited. The bill will be fifty cents.
That the proprietors, with the assistance of Steward Verkuyl will do themselves and the new Cutler House credit with a most elaborate spread, and that the public will be there to do it justice is safe enough to bank on.
9/7
The opening dinner at the Cutler House yesterday was a grand success in every way. A large number of Grand Haven people took advantage of the fine bill of fare and got a first class dinner.
9/11
Up at the new Cutler House business is progressing finely. The house opened to a good business which has been steadily increasing and should it grown much more, additional room will be needed to accommodate the trade. The house as a matter of course is given the most entire satisfaction. Four large sample rooms makes it very convenient for the drummer trade, and the excellent cuisine service, excelled by none, with other appointments in every particular first class, and at moderate rates, make the house a popular one with both the transient trade and local trade.
9/17
The Cutler House Opening.
Everything went pleasantly at the opening party in the Cutler House last night. Dancing was the order of amusement, for which the Elite Orchestra of Grand Rapids furnished charming music and to which fifty-eight couples tripped the light fantastic. Ices and sherbets were served all evening and at 11:30 all sat down to an elegant supper. Several were present from Grand Rapids and Muskegon. Dancing closed at 1:30 and all expressed themselves as having enjoyed a most delightful party.
Evening Tribune Front Page Next Article