Great Lakes Surfing Association
Beach & Pier Safety Database / Grand Haven Pier Fatalities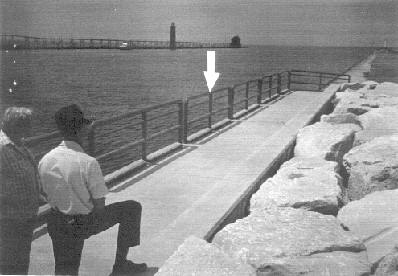 U.S. Corps of Engineers photo edited to show where Mark Agerstrand fell from the north pier railing.
13. June 16, 1987: Mark Agerstrand, 6, was running along with his cousin ahead of his grandfather after fishing at the end of the north pier. The boys stopped at the approach to the pier and Mark began climbing on the brightly colored blue railings lining the walkway. He lost his grip on the wide smooth bars and fell into the channel. Sheriff Dept. divers were able to recover Mark 16 minutes after he went in but he could not be revived.
Newspaper Coverage Other Information