Great Lakes Surfing Association
Beach & Pier Safety Database / Grand Haven Pier Fatalities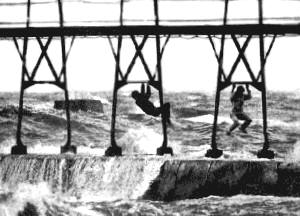 Taking chances on the south pier a few weeks after Appel tragedy.
14. October 4, 1988: Mark Appel, 12, was playing tag with his friend midway between the foghorn house and the lighthouse on the south pier on . Gale warnings were posted and seas were running 8-10 ft. Mark was swept off the pier into the lake by a large wave and vanished.