Grand Haven Daily Tribune April 26, 1898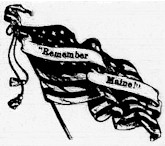 Remember Maine.
—
BY DAVID FLETCHER HUNTON.
—
When the storm of battle rages,
And the cannons thunder loud:
When you charge upon the Spaniards
And are beating back the crowd:—
When the life-blood of your comrades,
Gushes out on hill and plain:
When you trample down the fallen—
COURAGE, BOYS! REMEMBER MAINE!
When the blood-red arch of heaven,
Seems aflame with bursting shell;
When the lurid smoke of battle
Issues from the mouths of hell;
When you hear the whizzing bullet
Mingled with the shriek of pain;
When the Dons are routed—flying—
THEN, REMEMBER THOSE OF MAINE!
When the war-horse rushes madly,
Trampling beneath his heels;
When the red blood of the fallen,
Splashes on the cannon's wheels;
When you see the fleeing Spaniards,
Panic stricken on the plain;
Shout aloud to those around you—
"BOYS! REMEMBER THOSE OF THE MAINE!
When upon the field of carnage,
You are pushing on ahead;
And you see the ghastly faces
Of the dying and the dead; —
Do not let your courage falter,
As you tread among the slain!
Nerve yourselves to noble action—
And, REMEMBER THOSE OF THE MAINE!
If upon the field of battle,
You are wounded in the fight,
If you fall while bravely fighting,
For your country and the right:—
Cheer your comrades on to victory!
Let your dying words be plain—
"BOYS! REMEMBER THOSE WHO PERISHED,
BY THE TREACHERY OF SPAIN!"
Stand together, when in action!
If a brother-soldier falls;
Close your ranks! Shoulder to shoulder!
And stand there, a solid wall!
May God smile upon your efforts,
And avenge the wrong of Spain!
GOD OF BATTLES! SHIELD OUR SOLDIERS!
BRING THEM SAFELY HOME AGAIN!
Grand Haven, Mich. April 24, 1898.
―